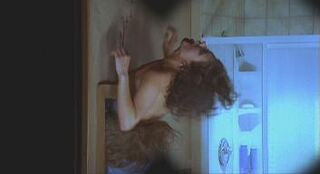 Tiffany Shepis (1979 - )
a.k.a. Vanessa Lynch
Bloody Murder 2: Closing Camp (Halloween Camp) (2003) [Angela]: Hit on the head with a machete by John Colton. (Thanks to Corvid, John, Eric, and Grumpy)
Detour (Cannibal Detour; Cannibal Highway) (2003) [Tiffany]: Killed (though I don't know the details). (Thanks to Corvid)
Abominable (2006) [Tracy]: Back broken when the monster (Michael Deak) pulls her through a hole in the wall, literally folding her backwards. (Nudity alert: Topless) (Thanks to Alessio)
Hoodoo for Voodoo (2006) [Ayida]: Hacked to death by an unknown assailant acting under Kian O'Grady's control. (Thanks to Dick Hertz)
Blood Oath (2007) [Janet]: Stabbed in the chest by Amanda Krupp (Patrick Holt).
Cyrus (Cyrus - Mind of a Serial Killer) (2010) [Cyrus' Mother]: Stabbed to death (off-screen) by her son (Wylie Allen); her body is shown lying on the bed afterwards.
Axeman (Axeman at Cutter's Cree) (2013) [Denise]: Hacked to death with an axe by Scot Pollard while trapped under Ray Trickitt's corpse.
Tales of Halloween (2016) [Maria]: Ankles slashed then stabbed to death by children in Halloween costumes.
Victor Crowley (Hatchet 4) (2017) [Casey]: Drowned when she is trapped under a broken piece of the airplane wreck when the swamp water continues to flood the plane.
Mrs. Sean Tretta (producer/director).
Community content is available under
CC-BY-SA
unless otherwise noted.