There Will Be Blood (2007)
Director: Paul Thomas Anderson 
Male Deaths
Edit
Female Deaths
Edit
Dedicated to Robert Altman.
Daniel Day-Lewis accepted the role of Daniel Plainview as he had been a fan of Paul Thomas Anderson's previous film, Punch-Drunk Love (2002). According to ProducerJoAnne Sellar, the film might not even have been made at all if Day-Lewis declined the role.
Daniel Day-Lewis improvised the speech he gives to the citizens of Little Boston, about building schools, bringing bread to the town, etc. Paul Thomas Anderson says of this, "It was delicious. It was Plainview on a platter."
Daniel Day-Lewis based his voice for and characterization of Daniel Plainview in part on old recordings of the director, writer, and actor John Huston. An article by Christopher Goodwin in the Sunday Times (of London) revealed Paul Thomas Anderson sent Day-Lewis documentaries about Huston while Day-Lewis was preparing to play the role.
While on location in Marfa, Texas, No Country for Old Men (2007) was the neighboring film production. One day, Paul Thomas Anderson and his crew tested the pyrotechnical effects of the oil derrick fire, causing an enormous billowing of smoke, intruding the shot that Joel Coen and Ethan Coen were shooting. This caused them to delay filming until the next day when the smoke dissipated. Both this film and No Country for Old Men (2007) would eventually become the leading contenders at the Academy Awards a year and a half later.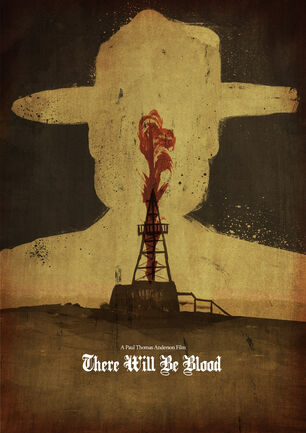 Community content is available under
CC-BY-SA
unless otherwise noted.