Doctor Strange in The Multiverse o Madness - The Loop
Play Sound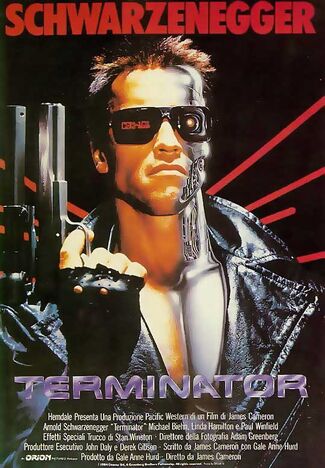 The Terminator (1984)
Director: James Cameron
Plot Summary
[
]
A human-looking indestructible cyborg is sent from 2029 to 1984 to assassinate a waitress, whose unborn son will lead humanity in a war against the machines, while a soldier from that war is sent to protect her at all costs.
Male Deaths
[
]
Female Deaths
[
]
Trivia
[
]
Arnold Schwarzenegger's famous line, I'll be back", was originally scripted as "I'll come back".
The Terminator is never referred to as a "T-800" in the film.
Linda Hamilton broke her ankle prior to production, and had to have her leg wrapped every day so she could do her chase scenes. Those scenes were also moved towards the end of the shooting schedule.
Mel Gibson turned down the role of the Terminator, simply feeling he wasn't right for the part. After seeing the film, he praised Arnold Schwarzenegger as a much better choice.
O.J. Simpson was considered for the Terminator, but the producers feared he was "too nice" to be taken seriously as a cold-blooded killer. In 1990 (before Simpson's first trial) Dark Horse Comics printed issues using his likeness.
Michael Biehn almost didn't get the role of Kyle Reese because in his first audition he spoke in a Southern accent as a result of working on a part for a stage production of "Cat on a Hot Tin Roof" (he didn't get the role), and the producers didn't want Reese to seem regionalized. After a talk with Biehn's agent, the producers called Biehn back for another audition and he got the part.
Arnold Schwarzenegger worked with guns every day for a month to prepare for the role. The first two weeks of filming he practiced weapons stripping and reassembly blindfolded until the motions were automatic, like a machine. He spent hours at the shooting range and practicing with different weapons without blinking or looking at them when reloading or cocking. He also had to be ambidextrous. He practiced different moves up to 50 times. He wound up garnering a compliment in "Soldier of Fortune" magazine for his realistic handling of the guns on camera (whereas the magazine usually lampoons movies for their inaccurate depictions of weapons use).
Gallery
[
]