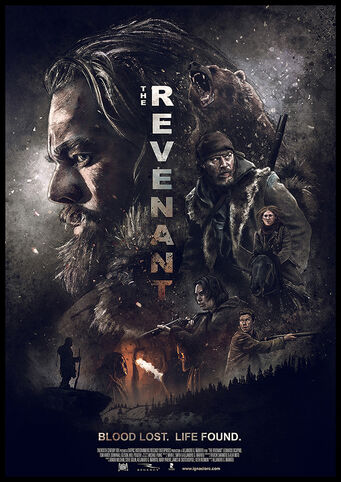 The Revenant (2015)
Director: Alejandro G. Innaritu
A frontiersman (Leonardo DiCaprio) on a fur trading expedition in the 1820's fights for survival after being mauled by a bear and left for dead by members of his own hunting team (Tom Hardy and Will Poulter).
Male Deaths
Edit
Female Deaths
Edit
Leonardo DiCaprio was originally approached to star in Steve Jobs (2015) but dropped out to do this film instead.
Alejandro G. Iñárritu was insistent that computer-generated imagery not be used to enhance the film, stating, "If we ended up in greenscreen with coffee and everybody having a good time, everybody will be happy, but most likely the film would be a piece of shit."
Leonardo DiCaprio chose to devour a raw slab of bison's liver, even though he is vegetarian. He also had to learn to shoot a musket, build a fire, speak two Native American languages (Pawnee and Arikara), and study with a doctor who specializes in ancient healing techniques. DiCaprio calls it the hardest performance of his career.
Sean Penn was the first choice for the role of John Fitzgerald and was actually cast in the role, but dropped out due to scheduling conflicts. The role was then filled in by Tom Hardy.
Tom Hardy has stated that he does not read scripts. At one time, he was due to star inSplinter Cell. He wanted to play a soldier in that film, but Leonardo DiCaprio begged him to read the script for this movie. Hardy read half the script and accepted the role.
Due to production being behind schedule, the snow melted during the location shoot in Canada before filming was complete. With summer rapidly approaching, there was no choice but to relocate the entire production to southern Argentina, where there were similar wintry conditions.
Community content is available under
CC-BY-SA
unless otherwise noted.