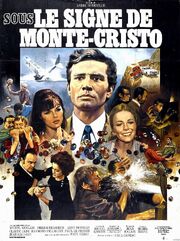 The Return of Monte Cristo (1968)
aka: Sous le signe de Monte Cristo
Director: André Hunebelle
In France in 1947 Edmond Dantès (Paul Barge) escapes from prison, in which he was arrested by denouncing as collaborator of Nazis. With his friend Bertuccio (Paul Le Person) he arrives in South America. There they save in the desert the life of a father, Louis (Gabriel Gascon), and his daughter, Linda (Claude Jade). Later they will be five with an old man called Faria (Pierre Brasseur). One day, while some men kidnapped Linda, the criminals are killing Louis. Edmond gives Linda's father the promise to stay at his daughter. Some years later, Faria brings the friend into the mountains to a treasure. But there is a deadly trap, and so Faria is killed in the trap... In 1967 Edmond, Linda and Bertuccio returning to France. Edmond haves a new name as Christian Montez (C.M. like Monte Cristo). He will take vengeance on the guilty men who have denunciated him after the war: Villefort (Michel Auclair), Caderousse (Jean Saudray) and Morcerf (Raymond Pellegrin) who has married Edmond's fiancée Maria (Anny Duperey). Linda brings a snare to lawyer Villefort, which Christian Montez is Edmond Dantès. So Villefort, Morcerf and Caderousse planning to shot down Edmond. But he places the cartridges in his revolver, so Villefort and Morcerf only shoot down Caderousse. During the funeral arrives Edmond and shows a movie about the killing of Caderousse. Now Morcerf tries to shoot down Edmond, but the bullets killing Maria, who wants to save Edmond (visible in the corner of the movie poster). Morcerf jumps out of the window into his death. Edmond and Linda leaving Nice with a yacht called Monte Cristo.
Male Deaths
Edit
Female Deaths
Edit
Community content is available under
CC-BY-SA
unless otherwise noted.