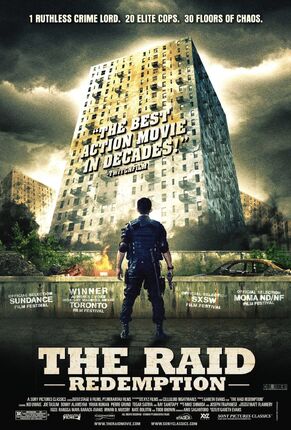 The Raid: Redemption (2011)
Director: Gareth Evans
A S.W.A.T. team becomes trapped in a tenement run by a ruthless mobster and his army of killers and thugs.
Male Deaths:
Edit
Yayan Ruhian (Mad Dog)
Ray Sahetapy (Tama)
Verdi Solaiman (Budi)
Eka 'Piranha' Rahmadia (Dagu)
R. Iman Aji (Eko)
Ananda George (Ari)
Yusuf Opilus (Alee)
Joe Taslim (Jaka)
Alfridus Godfred (Machete Gang #1)
Rully Santoso (Machete Gang #2)
Melkias Ronald Torobi (Machete Gang #3)
Johanes Tuname (Machete Gang #4)
Sofyan Alop (Machete Gang #5)
Mus Danang Danar Dono (Special Force Driver #1)
Sunarto (Special Force Driver #2)
Hanggi Maisya (Special Force #10)
Zaenal Arifin (Special Force #11)
Abraham Joshua B. Sitompul (Special Force #12)
Aji Setianto (Special Force #13)
Fachrudin Midun (Special Force #14)
Ardiansyah Putra (Special Force #15)
Engelius Rumbindi (Special Force #16)
Bastian Riffanie (Special Force #17)
Aliusman (Special Force #18)
Ubay Dillah (Mad Dog's Man #1)
Taufik Arrahman (Mad Dog's Man #2)
Acip Sumardi (Naga / Mad Dog's Man #3)
Muhammad Yazid (Tomi / Andy's Man #1)
Saifan Nur (Angga / Andy's Man #2)
Female Deaths:
Edit
Community content is available under
CC-BY-SA
unless otherwise noted.