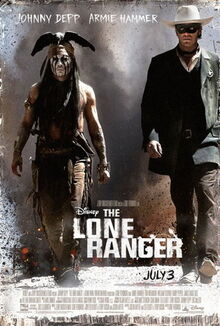 The Lone Ranger (2013)
Director: Gore Verbinski
Native American warrior Tonto (Johnny Depp) recounts the untold tales that transformed John Reid (Armie Hammer), a man of the law, into a legend of justice.
Male Deaths
Edit
Female Deaths
Edit
Quentin Tarantino named this movie as one of his ten favorites films of 2013.
This film is one of the biggest financial flops of all time, and lost the studio between 94 and 119 million dollars.
Tonto means "fool" in Spanish and Italian. In Spanish versions of this film, Tonto is renamed Toro, which means "bull."
In an interview, him to avoid stepping on him. A clip of the fall shows the horse clearly jumping over Depp, and detaching him from the saddle. Depp suffered only minor bruises and scrapes, but says it could have been a lot worse if the horse had stepped on him.
Community content is available under
CC-BY-SA
unless otherwise noted.