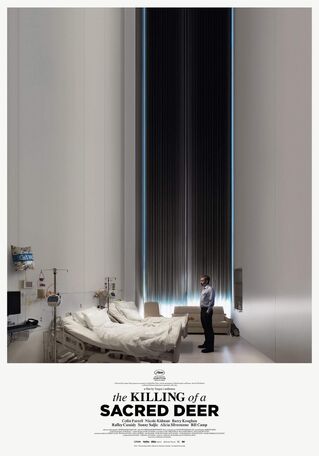 The Killing of a Sacred Deer (2017)
Directed by Yorgos Lanthimos
Dr. Steven Murphy (Colin Farrell), a charismatic surgeon, is forced to make an unthinkable sacrifice after his life starts to fall apart, when the behavior of a teenage boy Martin (Barry Keoghan), boyfriend of his daughter Kim (Raffey Cassidy) who Steven has taken under his wing turns sinister. When Steven discovers Martin still blames him for letting his father die on the operating table and now demands a balance must be met, Steven's son Bob (Sunny Suljic) is suddenly struck down by a mysterious affliction (seemingly from some sort of death curse) which then soon spreads to his sister Kim and then his mother Anna (Nicole Kidman). With only one inevitable outcome... let one of said Murphy family members die...or lose all of them and only Steven can make that heartbreaking decision;
Based on Iphigenia In Aulis by Euripides this has been described as a modern day retelling of this Greek tragedy
During the first diner scene with Steven and Martin, a deer is visible on the wallpaper.
Heart surgery scenes in the film are real. They were filmed during an operation on a real patient who was undergoing quadruple bypass surgery which Colin Farrell attended.
Nicole Kidman and Colin Farrell began working together on The Beguiled (2017), only a few weeks later they wrapped filming on this film. Both films would go on to be in competition for the Palme d'Or at the 2017 Cannes Film Festival, and both would win awards in the official competition ("The Beguiled" won the Directing award for Sofia Coppola while "The Killing of a Sacred Deer" shared the Screenplay award with Lynne Ramsay's You Were Never Really Here (2017)).
Community content is available under
CC-BY-SA
unless otherwise noted.