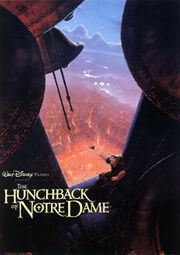 The Hunchback of Notre Dame (1996; animated)
Directors: Gary Trousdale & Kirk Wise
Judge Claude Frollo is up against his horse. 

Frollo's Weakness: Frollo's Mother George of the Jungle's Screaming "Say it."

The Horse's Weakness:  The horse's Mother Early Peter Pan Trailer Grinchy Curse Hercules Crying Out Victor
1.) Despite its G-rating, this animated film has profanity words such as "hell" and "damn."
2.) "Hellfire" was nearly cut from the film.
3.) Many viewers watched this animated film following a fire in the Notre Dame Cathedral.
Community content is available under
CC-BY-SA
unless otherwise noted.