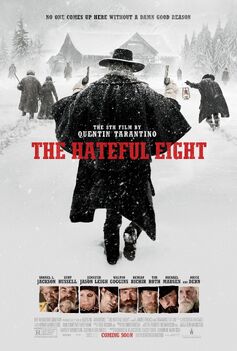 The Hateful Eight (2015)
Director: Quentin Tarantino
Bounty hunters seek shelter from a raging blizzard and get caught up in a plot of betrayal and deception.
Male Deaths
Edit
Female Deaths
Edit
All of the main events in this film take place in less than one day.
Quentin Tarantino has said that some of Ennio Morricone's compositions for the film are the unused scores for The Thing (1982)
After the script leaked online, Quentin Tarantino did not want to make the film. However, after they did a brief reading of the script in Los Angeles, the cast was stunned and got excited for the film, and with Samuel L. Jackson persuading him to do this film, Tarantino accepted.
During the development stage, Christoph Waltz was rumored to be up for the executioner, but it was always intended for Tim Roth.
Michelle Williams, Robin Wright, Geena Davis, Evan Rachel Wood, Hilary Swank, and Demi Moore were all considered for the role of Daisy Domergue before Jennifer Jason Leigh was officially announced. Jennifer Lawrence was rumored to have been considered, but her reps denied it. Katee Sackhoff read for the role, and was a strong contender, but it was eventually decided that she was too young.
Pretty much all the characters die.
Community content is available under
CC-BY-SA
unless otherwise noted.