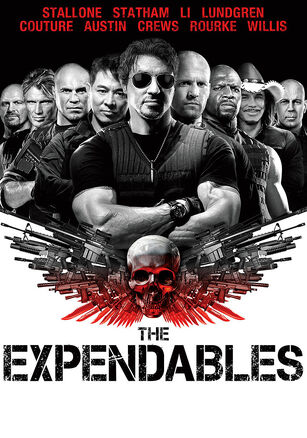 The Expendables (2010)
Director: Sylvester Stallone
Male Deaths:
Edit
Female Deaths:
Edit
Plans for a sequel were already planned 7 months before the debut in the theaters.
Mickey Rourke split filming his scenes with his appearance in Iron Man 2 (2010). He was only available for 48 hours.
Sylvester Stallone sustained fourteen injuries making this movie, including breaking a tooth, rupturing his ankle, and getting a hairline fracture in his neck that required the surgical insertion of a metal plate. He also had bronchitis and shingles during the shoot.
This could have been Brittany Murphy's final film. However Sylvester Stallone cut her character from the script before anything was filmed.
Wesley Snipes was offered the role of Hale Caesar but couldn't accept because, due to his tax problems, he wasn't allowed to leave the United States without the court's approval. The role was taken by Forest Whitaker and rewritten for Whitaker, but he was forced to leave the film due to a scheduling conflict. The role was then offered to rapper 50 Cent who turned the role down to focus on his music career. After a few days, Sylvester Stallone decided to cast former NFL player Terry Crews in the part. In 2014 (after finishing his prison sentence), Snipes ended up appearing in "The Expendables 3".
Community content is available under
CC-BY-SA
unless otherwise noted.