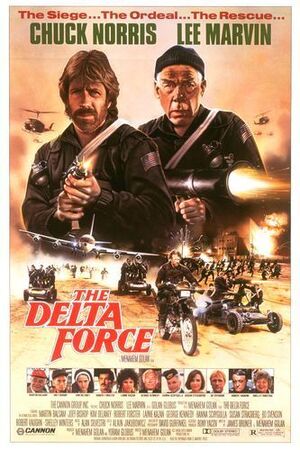 The Delta Force (1986)
Director: Menahem Golan
A Boeing 707 aircraft jetliner ATW Flight 282 on its way from Athens to Rome and then to New York City is hijacked by Lebanese terrorists. The terrorists demand that the pilot take them to Beirut. What the terrorists don't realize is that an elite team of commandoes led by Major McCoy (Chuck Norris) and by Colonel Alexander (Lee Marvin) as been called into service to eliminate all terrorists on the jetliner and who's involved in the hijacking and try to retake the plane before the terrorists kill all the hostages.
Male Deaths
Edit
The plot is loosely based of the hijacking of TWA Flight 847 took off from Athens, Greece to Rome, Italy, to Boston, Massachusetts, to Los Angeles, California, and then to San Diego on Friday, June 14, 1985.
This was Lee Marvin's last film before his death on August 29, 1987.
Community content is available under
CC-BY-SA
unless otherwise noted.