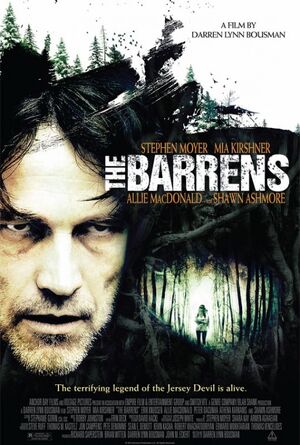 The Barrens (2012)
Director: Darren Lynn Bousman
The film was released under different titles in several European territories: e.g. as Jersey Devil in the German-speaking countries and as The Forest in France and Belgium. In the UK the film was shown on The Horror Channel in January 2015 as Devil in the Woods.
A troubled couple, Richard (Stephen Moyer) and Cynthia (Mia Kirshner) take their offspring (Allie MacDonald and Peter DaCunha) on a camping trip deep into the heart of The Pine Barrens in Southern New Jersey, believed to be the hunting grounds of the notorious Jersey Devil. Before long a disturbing personality change begins occurring in Richard and people and animals they meet begin to disappear only to turn up dead and mutilated. Is Richard going insane or is he being mentally manipulated by something otherworldly.
Filming was originally intended to be shot in the actual Pine Barrens of New Jersey, but eventually took place in the Toronto, Ontario area for budgetary reasons with the cast and crew mainly staying in the town of Caledon, with three different forests were used for the woods
Male Deaths
Edit
Female Deaths
Edit
Community content is available under
CC-BY-SA
unless otherwise noted.