Boba Fett Returns - The Loop
Play Sound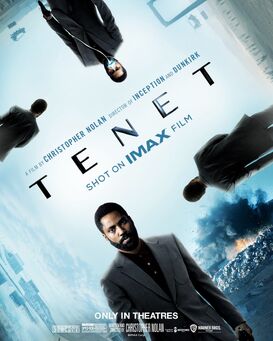 Tenet (2020)
Director: Christopher Nolan
Plot
[
]
Armed with only one word -- Tenet -- and fighting for the survival of the entire world, the Protagonist journeys through a twilight world of international espionage on a mission that will unfold in something beyond real time.
Male Deaths
[
]
Female Deaths
[
]
Gallery
[
]
Trivia
[
]
The working title for the film was "Merry Go Round".
The film's title is a palindrome: a word that reads the same backwards as forwards.
Third Christopher Nolan film to be shot by cinematographer Hoyte Van Hoytema, after Interstellar (2014) and Dunkirk (2017).
Actor Kenneth Branagh revealed that he read the screenplay for the film more times than anything he had ever worked on. He compared navigating through the script to doing the 'Times' crossword puzzle every single day.
After being offered the lead role in the film, John David Washington read the screenplay in director Christopher Nolan's locked office at Warner Bros. studios. It took him around five hours to finish reading it because he kept flipping back and forth "in pure amazement".
First Christopher Nolan film since The Prestige (2006) not to be scored by Hans Zimmer. Zimmer turned Nolan down for the first time in over a decade due to scheduling conflicts with scoring his longtime passion project Dune (2020). He was replaced by newcomer Ludwig Göransson, who had recently won an Oscar for his work on Black Panther (2018). Zimmer is friends with Göransson and had suggested him to Nolan.
There was much secrecy surrounding the project before its release. Robert Pattinson told USA Today that he was only allowed to read the script once, in a locked room at Warner Bros. studios. His co-star Michael Caine wasn't even allowed to read the entire script; he was only given his scenes to read before shooting. Prior to the film's release, Caine told press that he had no idea what the movie was about, despite being a close friend and a frequent collaborator of director Christopher Nolan.
Posters
[
]