Line 9:
Line 9:
 

==TV Deaths==

 

==TV Deaths==

 
 
−

*'''''Merlin's Apprentice'' (2006; mini-series)''' [''Yvonne'']: Impaled with a spear, along with [[Christopher Jacot]], by [[Alexander Kalugin]] during the final battle; they are brought back to life when [[John Reardon]] uses the Holy Grail to undo the events of the battle. ''(Thanks to Stephen)''

+

*'''''Merlin's Apprentice'' (2006; mini-series)''' [''Yvonne'']: Impaled with a spear, along with [[Christopher Jacot]], by [[Alexander Kalugin]] during the final battle; they are brought back to life when [[John Reardon]] uses the Holy Grail to undo the events of the battle. ''(Thanks to Stephen)''

 
 
 

==Notable Connections==

 

==Notable Connections==

Line 18:
Line 18:
 
 
 

{{DEFAULTSORT:Moss, Tegan}}

 

{{DEFAULTSORT:Moss, Tegan}}

 
⚫
 

[[Category:Actresses]]

 

[[Category:Actresses]]

−

[[Category:Listed on Original Cinemorgue]]

+

[[Category:]]

 

[[Category:Canadian actors and actresses]]

 

[[Category:Canadian actors and actresses]]

−

[[Category:1985 Births]]

+

[[Category: ]]

 

[[Category:Death scenes by impalement]]

 

[[Category:Death scenes by impalement]]

 

[[Category:Death scenes by running over of car]]

 

[[Category:Death scenes by running over of car]]

Line 27:
Line 28:
 

[[Category:Ghost scenes]]

 

[[Category:Ghost scenes]]

 

[[Category:Off-screen deaths]]

 

[[Category:Off-screen deaths]]

⚫
 
 

[[Category:Death scenes by spear]]

 

[[Category:Death scenes by spear]]

 

[[Category:Death scenes by torture]]

 

[[Category:Death scenes by torture]]
---
Revision as of 09:16, 6 April 2019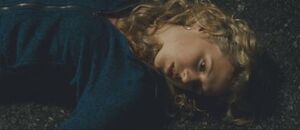 Tegan Moss (1985 - )
Film Deaths
Scar (2007) [Susie]: Graphically tortured by Ben Cotton. Ben then cuts out her tongue and snaps her neck while Brittney Wilson (whom Ben is also torturing) watches in horror.
The Eye (2008) [Teenage Girl]: Hit by a car (off-screen); she appears as a spirit in the street when Jessica Alba walks through her, and her body is shown when she and Jessica look back and see her lying in the street.
TV Deaths
Notable Connections
Community content is available under
CC-BY-SA
unless otherwise noted.