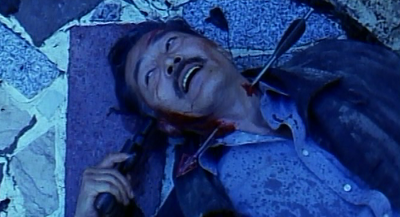 Tatsuya Fuji (1941 - )
Massacre Gun (Minagoroshi no kenjû) (1967) [Eiji]: Shot dozens of times by rival gangsters.
Gangster VIP (Burai yori daikanbu) (1968) [Suzuki]: Beaten to death, off-screen by rival gangsters. His body is later shown.
Goro the Assassin (Burai Hitokiri Goro) (1968) [Masa]: Dies off-screen after being stabbed. His casket is later shown being taken away to the cemetary. 
Retaliation (Shima wa moratta) (1968) [Shinjo]: Tortured to death off-screen by rival gangsters. His body is later seen in after being left in a ditch.
Savage Wolf Pack (Yaju o kese) (1969) [Gangster] Shot in the forehead while driving a jeep by Tetsuya Watari
Stray Cat: Delinquent Girl Boss (Nora-neko rokku: Onna banchô) (1970) [Katsuya]: Shot with a shotgun by his brother (Gorô Mutsumi).
Stray Cat: Wild Jumbo (Nora-Neko Rock: Wild Jumbo) (1970) [Ganishin]: Sniped by the police as he tries to shoot at them. 
Stray Cat: Sex Hunter (Nora-neko rokku: Sekkusu hantaa) (1970) [Baron]: Shot to death by Rikiya Yasuoka while also killing Rikiya.
In the Realm of Senses (Ai no korîda) (1976) [Kichizo Ishida]: Strangled to death by Eiko Matsuda while the pair are having sex. His penis is then cut off.
Empire of Passion (Ai no borei) (1978) [Toyoji]: Executed off-screen. His death is mentioned in the films ending narration.
The Man in White (Yurusarezaru mono)(2003)  [Gunji Serita]: Shot in the neck with a crossbow. Is then shot by Masaya Kato as a mercy kill.
Bright Future (Akarui mirai) (2003) [Shin'ichirô Arita]: Stung to death when he picks up a jellyfish.
None Known
Community content is available under
CC-BY-SA
unless otherwise noted.