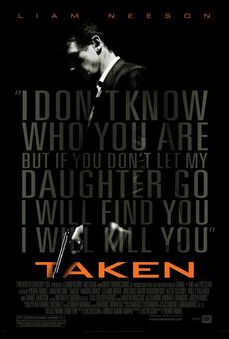 Taken (2008)
Director: Pierre Morel
Bryan Mills (Liam Neeson), a former government operative, is trying to reconnect with his daughter, Kim (Maggie Grace). Then his worst fears become real when sex slavers abduct Kim and her friend shortly after they arrive in Paris for vacation. With just four days until Kim will be auctioned off, Bryan must call on every skill he learned in black ops to rescue her.
Male Deaths
Edit
Female Deaths
Edit
Liam Neeson performs a good amount of his own stunts.
Doing this film propelled Famke Janssen to take action in the real-life fight against corruption. She now serves as the Goodwill Ambassador for the United Nations Office against Drugs and Crime.
Before any action takes place, Bryan already has scratches to the left side of his face, hinting at his "spare time" activities.
Liam Neeson expected the film to bomb, but he signed on, in order spend four months in Paris, and learn karate, while playing the kind of role he had rarely been offered in the past. Ironically, not only was the film a massive hit, but created a new on-screen image for Neeson, as an action hero.
Jeff Bridges was first cast as Bryan Mills, but after he dropped out of the project, Liam Neeson accepted the part, desiring to play a more physically demanding role than he was used to. Bridges eventually saw the film, and said Neeson was a much better choice for the role.
In a scene, Jean Claude (Olivier Rabourdin) is telling the story of Little Red Riding Hood to his two children. Little Red Riding Hood has been used as a lesson to children to never trust strangers who might wish to harm them. It has also been used as a warning against prostitution. Both themes appear in the film.
Community content is available under
CC-BY-SA
unless otherwise noted.