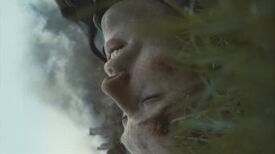 T.J. Miller (1981 - )
Cloverfield (2008) [Hudson 'Hud' Platt]: Bitten in half by the monster after it picks him up in its mouth; we see the upper half of his body after it falls to the ground with his camera. (The action is shown through his camera as it is picked up and falls along with him.)
The Emoji Movie (2017; animated) [Gene]: Voicing a meh emoji, his body explodes after he gets stuck in Candy Crush game in a dream sequence as James Corden and Anna Faris watch in horror. (Gene survives in reality.)
Ready Player One (2018) [iR0k]: Playing an avatar in the virtual reality "Oasis", T.J. is destroyed (along with almost every other avatar) when Ben Mendelsohn detonates a "Catacylst" bomb as he tries to stop Tye Sheridan winning the game. T.J.'s unseen human player presumably survives in reality; T.J. performed this role in motion capture.
Underwater (2020) [Paul]: After having his leg torn off by one of the underwater creatures, he is pulled out of his suit by the leg hole causing his body to crushed in the process. 
Community content is available under
CC-BY-SA
unless otherwise noted.