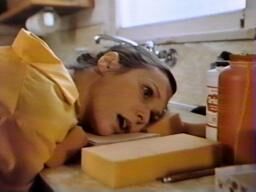 Susan Strasberg (1938 - 1999)
Kapo (1959) [Edith, a.k.a. Nicole Niepas]: Machine-gunned by Nazi soldiers through the walls of the generator room when she shuts off the power; she dies in Gianni Garko's arms shortly afterwards. (Thanks to Ric)
Scream of Fear (Taste of Fear) (1961) [Penny Appleby/Maggie Frenchum]: The movie opens with a drowned body being pulled out of a lake; at the end of the movie, it's revealed that this body was the real "Penny Appleby," and that Susan's character was actually Penny's nurse "Maggie Frenchum," impersonating Penny in order to investigate the goings-on. I don't know whether the body in the opening sequence was actually Susan (in a dual role) or a different actress, but I thought I'd list it just in case.
Hemingway's Adventures of a Young Man (1962) [Rosanna Griffi]: Mortally wounded when the military hospital is bombed; she dies in Richard Beymer's arms as they have a priest marry them.
Bloody Birthday (1981) [Miss Viola Davis]: Shot through the back (with an exit wound on her heart/chest) by Billy Jayne in the classroom. Her body is shown again later on when Lori Lethin opens the closet door and Susan's body falls out.
The Wide World of Mystery: Frankenstein (1973) [Elizabeth Lavenza]: Presumably killed by the monster (Bo Svenson). (I haven't seen this version, so I don't know how closely it follows the book.)
Tales of the Unexpected: In the Cards (1985) [Madame Myra]: Bludgeoned to death with a shovel by Max Gail. (Thanks to Tom)
Tales of the Unexpected: I Like It Here in Wilmington (1984) [Roberta Elton]: Shot in the chest by Robert Loggia.
Community content is available under
CC-BY-SA
unless otherwise noted.