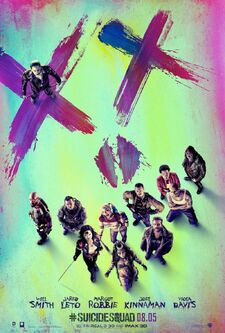 Director: David Ayer
Figuring they're all expendable, a U.S. intelligence officer (Viola Davis) decides to assemble a team of dangerous, incarcerated supervillains for a top-secret mission. Now armed with government weapons and led by a skilled special operative (Joel Kinnaman), Deadshot (Will Smith), Harley Quinn (Margot Robbie), Captain Boomerang (Jai Courtney), Killer Croc (Adewale Akinnuoye-Agbaje), El Diablo (Jay Hernandez) and other despicable inmates must learn to work together. Dubbed Task Force X, the criminals unite to battle a mysterious and powerful entity, while the diabolical Joker (Jared Leto) launches an evil agenda of his own.
Male Deaths
Edit
Female Deaths
Edit
Community content is available under
CC-BY-SA
unless otherwise noted.