Wiki Targeted (Entertainment)
Play Sound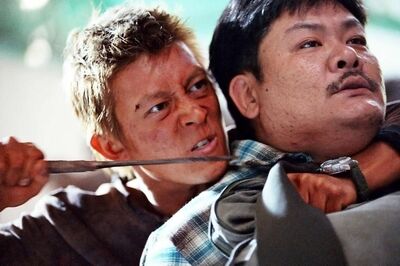 Suet Lam (1964 - )
Kung Fu Hustle (Kung Fu) (2004) [Axe Gang Vice General]: Kicked so hard that his back breaks. Is last seen foaming at the mouth and having a seizure while in a garbage container. Seeing as we don't see him after, listing it just in case. 
Divergence (Saam cha hau) (2005) [Mou Wai Bun]: Garrotted by Ekin Cheng off-screen. His body is later shown floating in water.
Exiled (Fong Juk) (2006) [Fat]: Dies from gunshot wounds inflicted during the film's climatic shootout by Simon Yam and his men, he dies with a smile on his face having succeeded in helping to kill Yam.​​
Dog Bite Dog (Gau ngao gau) (2006) [Insp. 'Fat' Lam]: Stabbed in the throat by Edison Chen after being held as a hostage.
Triangle (Tie saam gok) (2007) [Fat Bo]: While still alive at the end of the film, he is tied to a post in water and is being approached by a gator which is going to eat him.
Mad Detective (San taam) (2007) [Fatso - Ko's Inner Personality]: Suet plays a personality of Ka Tung Lam that can only be seen by Ching Wan Lau. When Ka is shot to death, Suet goes as well.
Triad Wars (Fatal Move) (Duo shuai) (2008) [Wong Shu Chor / Fat Ball]: Shot to death while changing in the police locker room.
Vengeance (Fuk Sau) (2009) [Fat Lok]: Mortally wounded after being shot multiple times in a gunfight with Simon Yam and his men. His death is then mentioned in a news program after his body is found in the landfill where the shootout took place at.
Shinjuku Incident (San suk si gin) (2009) [Old Ghost]: Stabbed to death when the warehouse he is in is raided by the Yakuza.
Accident (Yi ngoi) (2009) [Fatty]: Hit by a bus after the driver loses control.
Triple Tap (Cheung wong chi wong) (2010) [Fung Chi-Wo]: Shot to death when an exchange goes wrong.
Drug War (Du zhan) (2012)

 

 

[Fatso]: Shot repeatedly to death by Honglei Sun, Wallace Chung, and Guangjie Li when Louis Koo leaves him and several others to die during a shootout near a bus depot.
None Known
Community content is available under
CC-BY-SA
unless otherwise noted.