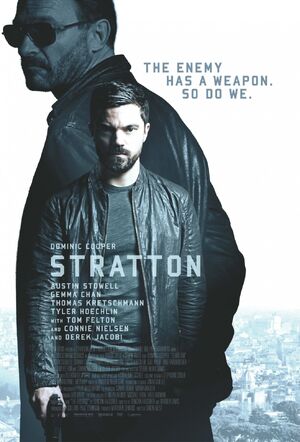 Stratton (2017)
Directed by Simon West
After the death of his American counterpart, an SBS operative Stratton (Dominic Cooper) and his team must race against time to stop a betrayed KGB spy Barovsky (Thomas Kretschmann) from unleashing stolen chemical weapons, having already tested it on a refugee camp, this fallen agent now sets his sights on using it on a western city, but how will Stratton stop him with a traitor in his midst? and a vengeful new protégé going rogue?
Based on the novel series of same name by Duncan Falconer.
Henry Cavill dropped out of the title role only a week before filming was due to begin due to "creative differences". He was replaced by Dominic Cooper.
Duncan Falconer (the author of the Stratton series) is a former member of the British SBS, a special forces unit of the UK and equivalent of the SAS. Falconer was active during the Falklands war and worked with Intelligence in Northern Ireland.
Community content is available under
CC-BY-SA
unless otherwise noted.