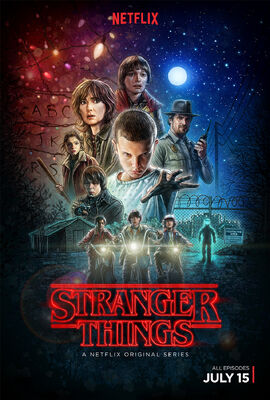 Stranger Things (2016; series)
Creators: Duffer Brothers
Plot Synopsis
[
]
When a young boy (Noah Schnapp) disappears, his mother (Winona Ryder), a police chief (David Harbour), and his friends (Gaten Matarazzo, Finn Wolfhard & Caleb McLaughlin) must confront terrifying forces in order to get him back.
Male Deaths
[
]
Female Deaths
[
]
Trivia
[
]
Gaten Matarazzo

(Dustin) was the first actor cast in the show.

Finn Wolfhard

(Mike) recorded his audition tape from his bed because he was sick.
Chief Hopper's (David Harbour) trailer reportedly only cost the art department $1 to buy.
Eleven's (Millie Bobby Brown) outfit of the pink dress & blonde wig are similar to -and possibly a nod to - E.T.'s disguise in the movie E.T. the Extra-Terrestrial (1982).
Steve gets brutally beat up in every season thus far. Season 1, it's Jonathan who does it. In Season 2, it's Billy. And in Season 3, it's the Russians trying to get information from him.
The series's logo resembles the font used on the covers for the original 1980s editions of Stephen King novels, notably Cujo and Christine.

Gaten Matarazzo's

voice had changed so much by the time production ended that the sound team could not use him for additional dialogue recording.
When listening to the theme song on Spotify, the album cover page turns into the upside down with the time bar turning into a flashlight pointing at the album cover.
Winona Ryder portrays a mother whose child has gone missing. In real life, Ryder dedicated the film Little Women (1994) to Polly Hannah Klaas, a young girl from her hometown of Petaluma, California, who went missing and was later revealed to have been kidnapped and brutally murdered. She offered a $200,000 reward for anyone with information on the subject, and as of 2016 she still remains a strong supporter of the Polly Klaas Foundation for Prevention of child abduction, and aid in the search.
In an interview on NPR, the Duffer brothers (Matt Duffer and Ross Duffer) praised Millie Bobby Brown as a precociously gifted actor and said that she is able to adjust her performance to different lens or camera positions in a way that most child actors don't know how to do. But they also said that there were times on the set when they were reminded that she was just a little girl; the example that Ross Duffer gave was, "one day she showed up on set and she [was] just covered head to toe in glitter. And she's like, 'I don't know where this glitter came from.' And it's like "I'm not having this problem with any of my adult actors. David Harbour is not coming in covered in glitter." The Duffers said that removing the glitter delayed their shooting schedule by 45 minutes.
Gallery
[
]