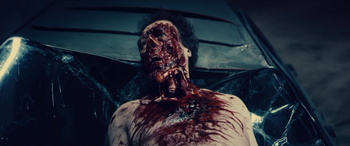 Stephen Rea (1946 - )
Film Deaths
Edit
Cry of the Banshee (1970) [Villager]: Shot by a soldier.
The Company of Wolves (1984) [The Groom]: Decapitated by Jim Carter with an axe while in his werewolf form; his severed head reverts to human form in a jug of milk after his death. (Thanks to Lauren)
Michael Collins (1996) [Ned Broy]: Tortured and killed by British secret service officers. (This bears no resemblance to the historic facts of Ned Broy's death, who died 1972). (Thanks to Lauren)
The Break (A Further Gesture) (1997) [Sean Dowd]: Shot to death by FBI agents outside a bar. (Thanks to Lauren)
The Butcher Boy (1997) [Pa Brady]: Dies of alcohol-related illness in his home; his body remains there for quite some time due to his son (Eamonn Owens) refusing to inform anybody of his death. (Thanks to Lauren)
Guinevere (1999) [Connie Fitzpatrick]: Dies (off-screen) of an unspecified (presumably alcohol- or tobacco-related) illness. He is still alive in his final scene, but Sarah Polley's narration states that she's recounting this story after his death. (Thanks to Tal)
The Life Before This (1999) [Brian]: Shot in the head (off-camera) in the crossfire of a shoot-out between David Hewlett and Joel Keller in a cafe; his body is shown lying on the floor afterwards. After the opening scene, the movie "rewinds" to the start of the day, leading up to an alternate outcome; Stephen dies in both versions of events. (Thanks to Tal)
FeardotCom (2002) [Alastair Pratt a.k.a. The Doctor]: Killed by a supernatural force (on top of being shot and stabbed) made up by the ghosts of all his victims (after a dying Stephen Dorff logs onto the cursed website); his body is shown afterwards lying on his operating table. (Thanks to Lauren)
The Reaping (2007) [Father Michael Costigan]: Burned to death when a fire starts supernaturally in his locked room.
Underworld: Awakening (2012) [Dr. Jacob Lane]: Throat torn out (while in his werewolf form) at the end of a fight with India Eisley (in her hybrid form), he returns to his human form as he dies on a crumpled car whilst India looks on (as she returns to normal).
TV Deaths
Edit
Community content is available under
CC-BY-SA
unless otherwise noted.