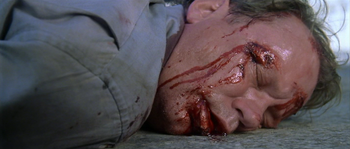 Stellan Skarsgård (1951 - )
The Hunt for Red October (1990) [Captain Viktor Tupolev]: Killed in an explosion, along with everyone else aboard, when the submarine is struck by its own torpedo.
Deep Blue Sea (1999) [Jim Whitlock]: Drowned after one of the sharks pulls him underwater while he's strapped to a gurney and being lifted by a helicopter; his body is shown again later on when Thomas Jane comes across his body underwater. On top of having his arm bitten off.
The Glass House (2001) [Terrance 'Terry' Glass]: Run over with a police car by Leelee Sobieski (as her brother Trevor Morgan looks on in shock) as he stands in the road with a hidden gun (which he then uses to fire at her) behind his back (after he's made numerous attempts on her life). His body is later seen as Leelee comforts her traumatized brother after both exit the car
City of Ghosts (2002) [Joseph Kaspar]: Shot repeatedly in the chest, stomach and throat/neck by one of the Russian gangsters he owes money to. His body is briefly seen again on the floor of the bar he's sitting in.
Dogville (2003) [Chuck]: Machine-gunned (along with everybody else in town) by James Caan's thugs. The massacre was so chaotic, I can't recall if Stellan's death was actually shown, but it's established that everyone was killed.
Dominion: Prequel to the Excorcist (2005) [Father Lancaster Merrin]: Shot in the chest with a shotgun by German soldiers. It appears that it was a fantasy of an alternate opening scene.
The Killing Gene (2007) [Eddie Argo]: Throat slit by Selma Blair, after an extended period of torture, when he refuses to give in to her torture and activate the switch to electrocute Ashley Walters; his body is shown afterwards as the police investigate (then again when Ashley hugs him). (Nudity Alert: Full frontal)
Melancholia (2011) [Jack]: Killed, along with everyone else on earth, when the planet Melancholia collides with Earth.
The Railway Man (2013) [Older Finlay]: Commits suicide by hanging himself over a railway bridge, in order to provoke Colin Firth to seek out Hiroyuki Sanada (his body is later seen when onlookers discover him then again at his funeral).
Avengers: Endgame (2019) [Eric Selvig]: Disintegrated after Josh Brolin uses the Infinity Gauntlet to wipe out half of the world's population in Avengers: Infinity War (2018). His death is never shown and he does not appear in this movie but his name and face are shown amongst those of the dead in Endgame. Presumably revived when Mark Ruffalo uses the Infinity Gauntlet to revive everyone who Josh had erased.
Parker Kane (1990 TV movie) [Nathan Van Adams]: Shot to death in a fight with Jeff Fahey.
Community content is available under
CC-BY-SA
unless otherwise noted.