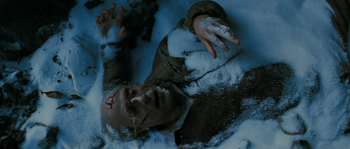 Stanley Tucci (1960 - )
Director
The Public Eye (1992) [Sal]: Shot in the back of the head in his apartment by a fellow mobster after making a phone call setting up the mob hit.
Conspiracy (2001) [Adolf Eichmann]: Executed by hanging (off-screen); his death is mentioned in the on-screen text at the end of the movie. (Thanks to Nilescu)
The Core (2003) [Dr. Conrad Zimsky]: Killed in an explosion when his section of the ship gets disconnected from the main body, then is destroyed by a nuclear bomb. (Thanks to Matt)
Lucky Number Slevin (2006) [Detective Brikowski]: Shot in the back of the head by Josh Hartnett in Stanley's car, when Stanley is also busy talking to Robert Forster on his cellphone. (as a revenge for killing his mother (actress currently unknown) many years earlier). (Thanks to Neil, ND, and Eric)
Julie & Julia (2009) [Paul Child]: Dies (off-screen) of old age/natural causes; his death is mentioned in the on-screen text at the end of the movie. (Thanks to Tommy)
The Lovely Bones (2009) [George Harvey]: Falls to his death into a ravine (after being hit by a falling icicle), as Saoirse Ronan's spirit looks on from the afterlife. (Thanks to Tommy)
Beauty and the Beast (2017) [Maestro Cadenza]: Playing a human turned into an anthropomorphic harpsichord, Stanley becomes inanimate due to the curse taking full effect when the last rose petal falls. He is resurrected in human form when Hattie Morahan undoes the curse. 
Peter & Wendy: Based on the Novel Peter Pan by J.M. Barrie (2015 TV) [Captain Hook/Mr. Darling/Dr. Wylie]: As "Captain Hook", Stanley is devoured by a crocodile (off-screen) after it drags him away. (Stanley's other roles survive the TV movie.)
Feud; You Mean All This Time We Could Have Been Friends? (2017) [Jack Warner]: Dies from a heart attack (off screen) several years after the episode ends; his death is indicated in text at the end of the episode.
Mr. Kathryn Louise Spath (widowed)
Cousin of Joseph Tropiano (screenwriter)
Community content is available under
CC-BY-SA
unless otherwise noted.