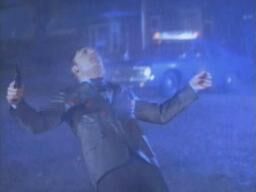 Stacy Keach (1941 - )
Brewster McCloud (1970) [Abraham Wright]: Killed (off-screen) by Bud Cort; his body is shown afterwards covered in bird droppings. (Stacy was made up to look older for this role.)
The New Centurions (Precinct 45: Los Angeles Police) (1972) [Roy Fehler]: Shot in the stomach after being called to a domestic disturbance; he dies in Scott Wilson's arms.
The Mountain of the Cannibal God (La Montagna del dio cannibale; Primitive Desires; Slave of the Cannibal God) (1978) [Professor Edward Foster]: Falls to his death while climbing the mountain, when Antonio Marsina lets him fall.
The Ninth Configuration (Twinkle, Twinkle, Killer Kane) (1980) [Colonel Kane]: There are different versions of this movie with alternate endings; in one version, he dies several hours after being stabbed in a bar brawl, and in another (the official version), he commits suicide by slitting his wrists and later dies after his final conversation with (Scott Wilson).
Militia (2000) [George Armstrong Montgomery]: Killed by Dean Cain.
The Hollow (Video, 2004) [Claus Van Ripper]: Decapitated (off-screen) by the Headless Horseman; the scene cuts to black just as we hear the Horseman strike.
Cell (2016) [Charles Ardai]: Impaled by a piece of shrapnel when a truck filled with gasoline explodes when the fire trail ignites it.
Gotti (2018) [Neil Dellacroce]: Dies of brain-cancer off-screen.  His funeral is shown with a picture of him at the funeral. 
Macbeth (1968 TV) [Banquo]: Killed by Earle Hyman's assassins; he appears as a ghost to Earle afterwards.
Body Bags (1993 TV) [Richard Coberts]: Dies (off-screen) after the alien parasites devour his brain.
Batman Beyond: Lost Soul (1999) [Vance]: Dies from a brain disorder prior to the events of the episode (off-screen); his death is revealed during a news broadcast. His mind is preserved as a computer program and he dies again after being deleted by Will Friedle.
Lone Rider (2008) [Robert Hattaway]: Shot in the back by Vincent Spano at the end of an argument; he dies shortly afterwards while talking to his son (Lou Diamond Phillips).
Community content is available under
CC-BY-SA
unless otherwise noted.