Wiki Targeted (Entertainment)
Play Sound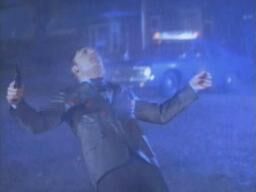 Stacy Keach (1941 - )
Film Deaths
[
]
Brewster McCloud (1970) [Abraham Wright]: Killed (off-screen) by Bud Cort; his body is shown afterwards covered in bird droppings. (Stacy was made up to look older for this role.)
The Traveling Executioner (1970) [Jonas Candide]: Executed in the electric chair by Bud Cort, starting a fire which burns down the warehouse where the execution is being held.
Doc (1971) [Doc Holiday]: While still alive in his last scene, the film ends with a photo of Stacy as Doc Holiday that lists his birth year and year of death.
The Life and Times of Judge Roy Bean (1972) [The Original Bad Bob]: Shot in the back by Paul Newman while Stacy is standing in the middle of the street, challenging Paul to a showdown.
The New Centurions (Precinct 45: Los Angeles Police) (1972) [Roy Fehler]: Shot in the stomach after being called to a domestic disturbance; he dies in Scott Wilson's arms.
Luther (1973) [Martin Luther]:
The Killer Inside Me (1976) [Lou Ford]: Shot repeatedly by police when he pulls a gun on Susan Tyrrell while walking out of his house.
The Greatest Battle (1978) [Major Mannfred Roland]: Killed in combat.
The Mountain of the Cannibal God (La Montagna del dio cannibale; Primitive Desires; Slave of the Cannibal God) (1978) [Professor Edward Foster]: Falls to his death while climbing the mountain, when Antonio Marsina lets him fall.
The Ninth Configuration (Twinkle, Twinkle, Killer Kane) (1980) [Colonel Kane]: There are different versions of this movie with alternate endings; in one version, he dies several hours after being stabbed in a bar brawl, and in another (the official version), he commits suicide by slitting his wrists and later dies after his final conversation with (Scott Wilson).
Class of 1999 (1990) [Dr. Bob Forrest]: Killed by his own cyborgs.
Batman: Mask of the Phantasm (1993) [Carl Beaumont / The Phantasm]: Voicing a dual role, "Carl Beaumont" is killed (off-screen) by a younger Mark Hamill. "The Phantasm", who is really Dana Delany, assuming his voice, survives the film.
Raw Justice (1994) (Good Cop, Bad Cop)(1994) [Deputy Mayor Bob Jenkins]: Killed in an explosion when his helicopter crashes into a building, after David Keith bails out.
Future Fear (1997) [General Wallace]: Stabbed in his stomach by Maria Ford  for betraying her.
Children of the Corn 666: Isaac's Return (1999) [Dr. Michaels]: Electrocuted by John Franklin while Stacy is standing in a puddle of water.
Militia (2000) [George Armstrong Montgomery]: Killed by Dean Cain.
The Hollow (Video, 2004) [Claus Van Ripper]: Decapitated (off-screen) by the Headless Horseman; the scene cuts to black just as we hear the Horseman strike.
Cell (2016) [Charles Ardai]: Impaled by a piece of shrapnel when a truck filled with gasoline explodes when the fire trail ignites it.
Gotti (2018) [Neil Dellacroce]: Dies of brain-cancer off-screen.  His funeral is shown with a picture of him at the funeral. 
TV Deaths
[
]
Notable Connections
[
]
Gallery
[
]