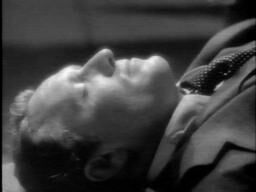 Spencer Tracy (1900 - 1967)
Quick Millions (1931) [Daniel Raymond]: Killed by his henchmen in a limo.
The Power and the Glory (1933) [Tom Garner]: Commits suicide after his second wife Helen Vinson, tells him that their supposed son is his grandson because she had an affair with his son (Clifford Jones).
Captains Courageous (1937) [Manuel Fidello]: Drowned after he gets caught in the rigging and pulled overboard (then orders Lionel Barrymore to cut the ropes so that the ship can go on without him). (Thanks to Jennifer)
Test Pilot (1938) [Gunner Morris]: Crushed by a load of sandbags during a test flight; he dies shortly afterwards while talking to Clark Gable. (Thanks to Jennifer)
Dr. Jekyll and Mr. Hyde (1941) [Dr. Henry Jekyll / Mr. Hyde]: Shot three times in the chest by Ian Hunter when Spencer comes at Ian with a knife. In death, his body transforms from Hyde back to Jekyll.
A Guy Named Joe (1943) [Major Pete Sandidge]: Killed in a plane crash after being wounded in a firefight with a German plane (and ordering the rest of his crew to bail out). He appears as a ghost throughout the rest of the movie. (Thanks to Stephen)
Broken Lance (1954) [Matt Devereaux]: Dies of a heart attack (due to overexertion while recovering from a stroke) while pursuing his sons on horseback. (Thanks to Brian)
The Devil at 4 O'Clock (1961) [Father Doonan]: Killed (along with Frank Sinatra) when the entire island explodes as the volcano reaches its high peak; the evacuees on the boat watch from a distance and sadly lament their deaths.
Mrs. Louise Tracy (famously long-separated, but never divorced).
Katharine Hepburn's lover.
Community content is available under
CC-BY-SA
unless otherwise noted.