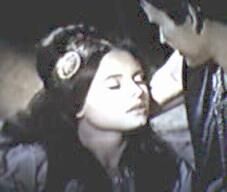 Soledad Miranda (1943 - 1970)
aka Susann Korda
Ursus (The Mighty Ursus; Ursus, Son of Hercules) (1961) [Fillide]: Shot in the stomach with an arrow during a battle; she dies in her lover's arms shortly afterwards. (Thanks to Amy)
Cervantes (Young Rebel) (1967) [Nessa]: Shot in the chest with an arrow during an uprising; she dies in Horst Buchholz' arms shortly afterwards. (Thanks to Whizzard)
Count Dracula (Nachts, wenn Dracula erwacht; El Conde Dracula) (1970) [Lucy Westenra]: Bitten on the throat by Christopher Lee. She later returns as a vampire, and is finally destroyed when Herbert Lom drives a stake through her heart and Fred Williams decapitates her with a shovel (off-camera). (Thanks to Eric)
Eugenie De Sade (Eugenie; De Sade 2000; Eugenie Sex Happening) (1970) [Eugenie Radeck de Franval]: Stabbed in the chest with scissors by her stepfather (Paul Muller); she later dies in the hospital after telling her story to Jesus Franco. (Nudity alert: Full frontal)
Nightmares Come at Night (Les Cauchemars naissent la nuit) (1970) [Neighbor's Girlfriend]: Stabbed in the back by Colette Giacobine while Soledad is making love with Andres Monales in their bedroom; the scene ends just after Colette brings down the knife. (Nudity alert: Rear)
She Killed in Ecstasy (Sie totete in Ekstase) (1971) [Mrs. Johnson]: Commits suicide by driving her car down an embankment. Her body is not shown afterwards.
Vampyros Lesbos (Las Vampiras; The Heiress of Dracula; The Sign of the Vampire) (1971) [Countess Nadine Carody]: Bitten on the throat, then stabbed in the eye by Ewa Stroemberg. (Nudity alert: Full frontal)
None.
Community content is available under
CC-BY-SA
unless otherwise noted.