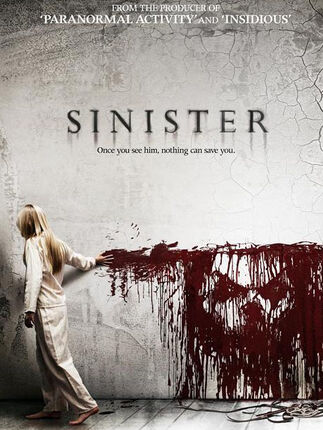 Sinister (2012)
Directed by Scott Derrickson
Washed-up true-crime writer Ellison Oswalt finds a box of super 8 home movies that suggest the murder he is currently researching is the work of a serial killer whose work dates back to the 1960s.
There is very little blood, almost no cursing, and no sex in this movie because the filmmakers were hoping for a PG-13 rating. However, they still got an R based on content alone.
Writer C. Robert Cargill got the idea for the script from a nightmare he had after watching The Ring (2002).
In the scenes where a scorpion and snake are shown in the attic, these are two of Bughuul's forms, as depicted in the ancient drawings given to Ellison by Professor Jonas in the movie.
Ethan Hawke had never seen the super 8 snuff films prior to the date of recording Sinister. When the scene where his character watches the snuff films was ready to be recorded, the soundtrack was matched up with the films and Hawke played out his role. His reactions to the films were recorded for Sinister and used in the final film.
According to co-writer C. Robert Cargill, Bughuul "Mr. Boogie" was originally intended to look more like Willy Wonka (the version played by Johnny Depp). After going over this idea, it was decided that the deity looking like Willy Wonka would be "too silly for the film and not scary or mysterious enough". Finally a photo was found on Google Images that Cargill bought the rights to, and this was the basis for the final Bughuul as seen in the finished film.
Community content is available under
CC-BY-SA
unless otherwise noted.