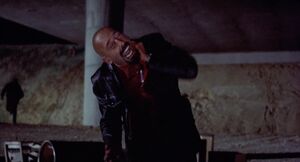 Sid Haig
(1939 - 2019)
Film Deaths:
Edit
Coffy (1973) [Omar]: Stabbed in the neck with a hairpin by Pam Grier when he is about to rape her by the roadside.
Busting (1974) [Rizzo's Bouncer] Shot in the back by Robert Blake.
Galaxy of Terror (Mindwarp: An Infinity of Terror; Planet of Horrors; Quest) (1981) [Quuhod]: Stabbed in the chest when his own severed arm throws a crystal at him. (on top of severing his own arm to stop a broken crystal from speading). (Thanks to Matthew)
Warlords (1989) [The Warlord]: Beaten to death in a fight with David Carradine in the desert.
The Devil's Rejects (2005) [Captain Spaulding]: Shot to death (along with Sheri Moon and Bill Moseley) by police in a shoot-out when they drive through a roadblock. (Thanks to Robert) NOTE: It turns out his character survived the shooting and appears in the sequel.  However, this was initially considered to be lasting, so this listing will remain.  
House of the Dead 2: Dead Aim (2005) [Professor Curien]: Killed by Paige Peterson whom Sid had killed earlier and revived as a zombie in an experiment. He later comes back as a zombie himself, but is again destroyed. (Thanks to PortsGuy)
A Dead Calling (2006) [George]: Shot in the head (off-screen) by John Burke.
Night of the Living Dead 3D (2006) [Gerald Tovar Jr.]: Eaten by a group of zombies after Brianna Brown knocks him into their midst. (Thanks to Matthew)
Brotherhood of Blood (2007) [Pashek]: Killed (off-camera) when we see the blood splash on a board.
Dark Moon Rising (2009) [Crazy Louis]: Killed by the werewolf Max Ryan.
Bone Tomahawk (2015) [Buddy]: Shot in the throat with an arrow by one of the Troglodyte's, who then attack him and rip his guts out, while David Arquette looks on in horror. 
Cynthia (2018) [Detective Edwards]: Killed and eaten (off-screen) by demotic a baby. The movie cuts to black when it attacks him. 
3 from Hell (2019) [Captain Spaulding]: Executed off-screen in prison.  We are simply told he is executed via a news report as he is being taken away. 
High on the Hog (2019) [Big Daddy]: Blows himself up with dynamite while driving a van towards DTA agents, giving Fiona Domenica and Adam Budron time to escape. 
TV Deaths:
Edit
Community content is available under
CC-BY-SA
unless otherwise noted.