Spider-Man: No Way Home Trailer Dropped - The Loop
Play Sound
Shin Kishida (1939 - 1982)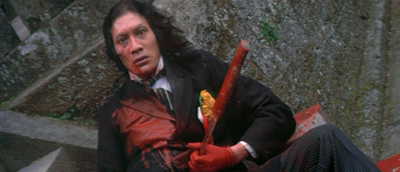 Film Deaths
[
]
Kill! (Kiru) (1968) [Jurota Arao] Shot with multiple bullets and arrows.
Red Lion (Akage) (1969) [Secretary Sokichi] Stabbed multiple times by enemy soldiers.
Zatoichi Meets Yojimbo (Zatôichi to Yôjinbô) (1970) [Kuzuryu] Stabbed in the stomach by Toshirô Mifune.
Lake of Dracula (Noroi no yakata: Chi o suu me) (1971) [Vampire]: Stabbed in the heart, causing his body to fall apart. 
Battle for Okinawa (Gekido no showashi: Okinawa kessen) (1971) [Soldier] Commits suicide by drinking poison.
Lone Wolf and Cub: Baby Cart at the River Styx (Kozure Ôkami: Sanzu no kawa no ubaguruma) (1972) [Kuruma Hidari] Has a sword thrown into his chest by Tomisaburô Wakayama.
Lone Wolf and Cub: Baby Cart in Peril  (Kozure Ôkami: Oya no kokoro ko no kokoro) (1972) [Kozuka Enki] Stabbed in the stomach after having a blade thrown into his head by Michi Azuma.
Demon Spies (Oniwaban) (1974) [Abbot Genkai]: Stabbed multiple times causing him to fall off a bridge
Evil of Dracula (Chi o suu bara) (1974) [The Principal] Stabbed with an iron poker through the heart by Toshio Kurosawa causing him to melt leaving only his skeleton behind.
Lady Snowblood 2: Love Song of Vengeance (Shura-yuki-hime: Urami Renga)'' (1974) [Seishiro Kikui] Stabbed to death by Meiko Kaji.
G.I. Samurai (Sengoku jieitai; Time Slip) (1979) [Naoe Bungo]: Sliced open with a sword by Isao Natsuyagi.
The Resurrection of the Golden Wolf (Yomigaeru kinrô) (1979) [Ishii]: Shot to death by Yûsaku Matsuda.
TV Deaths
[
]
The Return Of Ultraman (1971 series) [Ken Sakata]: Killed by Alien Nackle.
Connections
[
]