Shin'ya Tsukamoto (1960 - )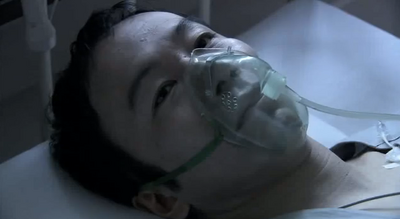 Film deaths
Edit
Tetsuo II: Body Hammer (1992) [Yatsu] After being decapitated in a fight with Tomorô Taguchi, his still living head is shot with a cannon by Tomoro causing it to explode.  
Tokyo Fist (Tokyo ken) (1995) [Tsuda Yoshiharo]: Possibly beaten to death in a boxing match with Kôji Tsukamoto ; they are both shown bleeding profusely at the end of the movie, but it's left up to the viewer's interpretation as to whether their injuries are fatal.
Stairway to the Distant Past (Harukana jidai no kaidan o) (1995) [Yamaguchi]: Shot to death after shooting a main Yakuza boss.
Dead or Alive 2 (Dead or Alive 2: Tôbôsha) (2000) [Magician Higashino]: Shot to death by hit-men.
Ichi the Killer (Koroshiya 1) (2001) [Jijii]: Hanged (it's unclear whether it's suicide or murder); his body is shown hanging from a tree at the end of the movie, as passersby go about their business without noticing.
Nightmare Detective (Akumu tantei) (2006) [O]: Dies in the real world after he jumps out of a window and lands on a car in the dream world.
Silence (2016) [Mokichi]: Tortured by being tied up to a cross and is constantly hit by ocean waves for multiple days. He dies after a few days and his body is shown being taken off the cross and carried off. His body is later burnt by samurai in order to make sure he does not get a Christian burial. 
Killing (Zan) (2018) [Sawamura] Sliced in the stomach with a sword in a duel with Sôsuke Ikematsu  causing his guts to fall out. 
TV deaths
Edit
Community content is available under
CC-BY-SA
unless otherwise noted.