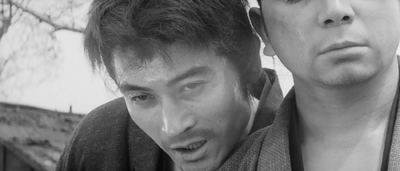 Shigeru Amachi (1931 - 1985)
The Ghost of Yotsuya (Tokaido Yotsuya kaidan) (1959) [Iemon Tamiya] Stabbed numerous dies. 
Osen Chitai (1960) [The Gangster] Shot by the police. 
The Tale of Zatoichi (Zatoichi Monogatari) (1962) [Miki Hirate]: Stabbed with a cane sword by Shintarô Katsu during a duel.
Zatoichi's Vengeance (Zatoichi no uta ga kikoeru) (1966) [Genpachiro Kuroda]: Stabbed to death by Shintaro Katsu with his cane sword during a duel
Sleepy Eyes of Death: Sword of Villainy (Nemuri Kyoshiro 8: Burai-ken) (1968) [Aizen]: Sliced open in a duel with a sword by Raizô Ichikawa.
Lady Gambler (Showa onna bakuto) (1972) [Shimazaki] Stabbed to death by rival gangsters in the films climatic battle. 
None.
Community content is available under
CC-BY-SA
unless otherwise noted.