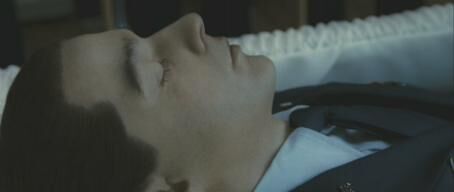 Shia LaBeouf (1986 - )
Constantine (2005) [Chas Kramer]: Thrown across the room and battered against the ceiling and floor by an invisible demon; he dies shortly afterwards in Keanu Reeves' arms. He returns to life as an immortal half-breed angel after the closing credits, although it's unclear whether he was secretly a half-breed the whole time and faked his death or just became one after dying as a human.
Eagle Eye (2008) [Jerry Shaw / Ethan Shaw]: Playing a dual role as twin brothers, "Ethan" is killed (off-screen) in a car crash (arranged by the ARIA computer program); his body is shown afterwards lying in his coffin when "Jerry" arrives at the funeral. Jerry survives the movie.
Fury (2014) [Boyd 'Bible' Swan] Shot in the eye by a sniper while trying to give Brad Pitt grenades; his body is seen again later on when Logan Lerman investigates the tank.
Man Down (2015) [Gabriel Drummer]: Possibly dies (off-screen) after being shot by a police sniper. The film ends with Charlie Shotwell hugging Shia after he is restrained by police.
R.L. Stine's The Nightmare Room: Scareful What You Wish For (2001) [Dylan Pierce]: Turned into a doll by his childhood doll Buddy (Dylan and Cole Sprouse) after a birthday magician used a spell on the doll to make him come to life and to make he and Shia friends forever. His doll form is shown afterwards in a box when his mother (Betsy Randle) and Tania Raymonde discover it.
The Even Stevens Movie (TV Movie; 2003) [Louis Stevens]: Suppoesly falls to his death after Christy Carlson Romano pushed him down, as Donna Pescow, Tom Virtue, Nick Spano, Steven Anthony Lawrence, Tim Meadows, and everyone watches in horror. However, it turns out it was a setup by Shia, Christy, Donna, Tom, Nick, Steven, Margo Harshman, and A.J. Trauth to get back at Tim for all the trouble he put them through.
Saturday Night Live (April 14, 2007) [Host/Various Characters]: In the "Dear Sister" sketch, he is shot by Andy Samberg; he manages to shoot Kristen Wiig in turn before dying. (Played for comic effect.) (Thanks to Tommy)
Community content is available under
CC-BY-SA
unless otherwise noted.