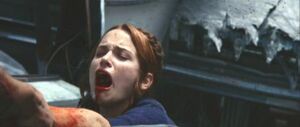 Shantel VanSanten (1985 - )
The Final Destination (2009) [Lori Milligan]: Hit by a truck and neck snapped when the truck crashes through the wall of a cafe where she's sitting with Bobby Campo and Haley Webb. (At the moment the truck comes through the wall, the movie switches to a CGI X-ray view to show their exact injuries.) (In Bobby's initial premonition at the racetrack, she is burned to death, along with Mykelti Williamson, by a blast of flame. In Bobby's later premonition at the mall, she is mangled in the gears of a broken escalator as Bobby tries to pull her out. According to Wikipedia, the US Blu-Ray includes two alternate endings: In one version, Shantel and Haley are crushed to death by a falling air conditioner; in another, the mall/escalator scene is presented not as a premonition but as her "real" death.)
Beauty and the Beast: Never Turn Back (2013) [Tyler]: Shot three times in the stomach by a hitman.
Timeless: Pilot (2016) [Kate Drummond]: Original "historical death" was having her crushed by the Hindenburg as it exploded over Lakehurst, New Jersey on May 6th, 1937. Her death is prevented after Goran Visnjic' henchmen prevent the disaster. However she is shot to death by accident by Goran during a gunfight between him and Matt Lanter.
The Boys: The Self-Preservation Society (2019) [Becca Butcher]: Dies from blood loss when the superhuman infant she's giving birth to tears open her stomach; her death is depicted in a flashback while John Doman is telling Antony Starr what happened to her. This later turns out to be a false story told by John and she is revealed to still be alive in the following episode You Found Me.
Community content is available under
CC-BY-SA
unless otherwise noted.