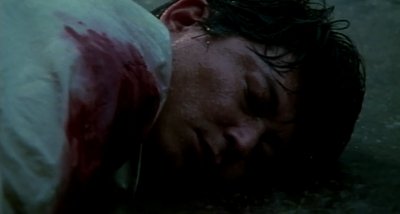 Sho Aikawa (1961 - )
Rainy Dog (Gokudô kuroshakai) (1997) [Yuugi]: Shot multiple times in the chest by Tomorowo Taguchi.
Ley Lines (Nihon kuroshakai) (1999) [Dealer]: Forced to drink gasoline with a water bottle taped to his mouth until his stomach bursts or he drowns. We just see his body laying on the ground with an inflated stomach.
Dead or Alive (Dead or Alive: Hanzaisha) (1999) [Det. Jojima]: Dies when Japan blows up after shooting a rocket at a fireball that Riki Takeuchi pulled out of his chest. 
Dead or Alive 2 (Dead or Alive 2: Tôbôsha) (2000) [Mizuki Okamoto]: Dies from his gun shot wounds on boat on the way to island where he and Riki Takeuchi first met. Riki carries Sho's body the rest of the way there until he too dies.
Pulse (Kairo) (2001) [Employee]: Turns into dust off-screen after being affected by the spirits of the dead.
Dead or Alive: Final (2002) [Ryô]: While not technically a death, he is turned into a new robotic being when he merges with Riki Takeuchi. Will list just in case. 
Blood Heat (Muscle Heat) (Masuuruhiito) (2002)' [Det. Aguri Katsuragi]: After being forced to take a drug that gives the user near super-human strength and also makes them insane is shot to death. Dies to talking to Kane Kosugi after regaining his sanity.
Gozu (Gokudô kyôfu dai-gekijô: Gozu) (2003) [Ozaki]: Dies when the car he is in suddenly breaks causing his head to hit the dashboard cracking his neck. He is later reborn when he comes out of a woman's vagina fully grown.
Zebraman 2 (Zeburâman: Zebura Shiti no gyakushû) (2010) [Zebraman]: Possibly dies when his inflated body floats out into space. He's still alive by the end of the film, but seeing as how he's floating in space there is a good chance he'll die.
None.
Community content is available under
CC-BY-SA
unless otherwise noted.