Wiki Targeted (Entertainment)
Play Sound
Sergio (2020)
Directed by Greg Barker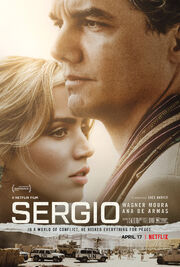 Synopsis
[
]
The life and death of United Nations' Diplomat and Special Representative in Iraq, Sérgio Vieira de Mello who was among those of a Canal Hotel bombing a terrorist attack on a UN base camp in 2003
Trivia
[
]
Originally intended to be released in theaters alongside streaming but such plans were scrapped due to the Coronavirus outbreak.
Sergio Vieira de Mello and actor Wagner Moura are both Brazilian. Sergio was from Rio de Janeiro whilst Wagner is from Salvador. Carolina Larriera is Argentinian, whilst Ana de Armas who portrays her is Cuban.
Carolina Larriera wrote a piece in The Huffington Post criticizing the surprising lack of initiative on the part of the United Nations to look into an attack of such magnitude and bringing those responsible to justice even though Sergio had been an indispensable asset to the organization. She claims the bombing that killed him was never properly investigated and "the circumstances of the incident were buried under statues and memorial speeches." Larriera resigned from the UN in 2005.
The actors portraying Adrien and Laurent Vieira de Mello, Sergio's kids, at 5 and 8 years old, are actually Wagner Moura's own children, José Moura and Salvador Moura.
Due to practical reasons, filmmakers weren't able to shoot in East Timor. The solution they found was to bring around 24 East Timoreses along with their clothing and fabrics to film in Thailand; completing with extras from Timor who were already in the country, thus bringing the total close to 50. Senhorinha was one of those people, and her scenes were based on a real life encounter Sergio had with a woman from Central Asia in a refugees camp. The actress had also lost her loved ones in the civil war. Even though they were following a script, their dialogue was not rehearsed so the scene was largely improvised and Wagner Moura actually cried during its filming.
Shortly after the events seen in the film, Carolina Larriera spoke out about the mistreatment from the United Nations and how they tried to keep her away from Sergio's funeral, claiming they weren't formally married and depriving her of rights as both family and employee. Larriera wasn't allowed to keep their personal belongings from Baghdad, UN didn't hear her testimony and her name was removed from the list of survivors of the attack. Despite the two having been engaged with total support from Sergio's family, their civil union was only legally acknowledged after a lawsuit that lasted for over 10 years against his first wife Annie Personnaz. Even then, the UN remained silent.
First narrative feature film of director Greg Barker. 11 years prior to its release, Barker also directed an homonymous documentary depicting Sergio Vieira de Mello's life and the real events pictured in this film. This time, he felt the subject needed a different, more personal approach, focusing on this "big, epic, emotional love story, set against a canvas of political turmoil and change". The new take was inspired by The English Patient (1996), The Killing Fields (1984) and The Year of Living Dangerously (1982).
On Sergio's death, Brazil, his home country, at once announced three days of official mourning. Despite his stated wishes and his mother Gilda Vieira de Mello's attempts to have him buried in Rio de Janeiro, Sergio was buried at the Cimetière des Rois in Geneva, Switzerland, at the request of his two sons and first wife Annie with UN's support.
Many lines are composites taken from real life quotes, and some can be seen in Barker's documentary Sergio (2009). The events depicted in the film are also narrated in Samantha Power's book 'Sergio: One Man's Fight to Save the World', in which the movie is based upon. One of those is the scene in which Carolina goes to Sergio's house in Dili and discovers that he has filled it with candles and paper hearts. As Power recounts in the book: "[Larriera] let herself in through the side door and found a row of candles leading her from the doorway to the living room. Sprinkled on the floor were paper hearts that he had cut out of colored construction paper. "From now on, it's the new Sergio!" he said, emerging. Larriera was skeptical. "I have changed," he said. "And I will change. Don't believe me. Watch me." From that point on, the couple referred to their relationship before his October turnaround as their "prehistory." "History," he said, "begins today."
Sergio refused a couple of times UN Secretary-General Kofi Annan's request to accept the Iraq mission as he had just reached a new position at the UN months earlier, but was pressured into it as Annan was being pushed by then US President George W. Bush. After Sergio's death, the US called for Annan's resignation. He then turned to the French, being supported by President Jacques Chirac, and seemingly dodged the responsibility for sending Sergio to Iraq, slipping "the Americans had reached him".
The extras used in Amman, Jordan were comprised of a mix of American expats, vets from post 9/11 wars plus dozens of Iraqi and Syrian refugees.
At some point the project was attached to director Terry George, who wanted names like Daniel Day-Lewis, George Clooney and Brad Pitt to star. George intended to film it in Sarajevo, Bosnia and Herzegovina, in early 2009, though it never got off the ground.
Male Deaths
[
]
Female Deaths
[
]
Sameera Asir

(Nadia Younes)