Wiki Targeted (Entertainment)
Play Sound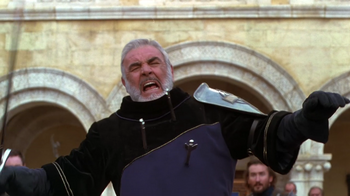 Sean Connery (1930 - 2020)
"Bond, James Bond"
Film Deaths
[
]
Another Time, Another Place (1958) [Mark Trevor]: Killed in a plane crash (off-screen); we learn of his death when Lana Turner hears the news on the radio.
Tarzan's Greatest Adventure (1959) [O'Bannion]: Shot with an arrow by

Gordon Scott

.
From Russia with Love (1963) [James Bond]: Playing a dual role as both Bond and a double, the double is garroted by Robert Shaw during a training exercise, in preparation for his planned assassination of the real Bond. Robert then removes the mask revealing it to be John Ketteringham. (note: since Sean played the role until the unmasking, it'll be counted for both actors).
Woman of Straw (1964) [Anthony Richmond]: Falls to his death down a staircase when Johnny Sekka throws a wheelchair at him.
The Hill (1965) [Joe Roberts]: Beaten by Ian Hendry in his cell. It's not known if this was supposed to be fatal, but I'll list it in case.
You Only Live Twice (1967) [James Bond]: 'Shot' by guards after

Tsai Chin

puts him up in a folded bed. It's later revealed that Sean was faking his death, as he appears alive in a body bag that was dumped into the sea.
The Molly Maguires (1970) [Jack Kehoe] While still alive at very the end of the film, the film ends right before he is to be hanged. 
The Red Tent (Krasnaya palatka) (1970) [Roald Amundsen]: Frozen to death after being stranded in the ice while attempting to rescue Peter Finch.
The Arab Conspiracy (Double Hit; The Next Man) (1976) [Khalil Abdul-Muhsen]: Killed by

Cornelia Sharpe

.
Robin and Marian (1976) [Robin Hood]: Poisoned by Audrey Hepburn, before she drinks the poison herself; the movie ends with the dying Sean firing one last arrow into the air. (Thanks to Gary)
Sword of the Valiant (Sword of the Valiant: The Legend of Sir Gawain and the Green Knight) (1984) [The Green Knight]: Turns to dust after being sliced by a sword by Miles O'Keeffe. (Thanks to John)
Highlander (1986) [Juan Sanchez Villa-Lobos Ramirez]: Decapitated with a sword by Clancy Brown. (He was brought back in the 1991 sequel Highlander II: The Quickening.) (Thanks to Uwe)
Family Business (1989) [Jessie McMullen]: Dies (off-screen) of natural causes in medical care. His ashes are later shown being scattered from a rooftop of an apartment during a ceremony. (Thanks to Gary)
A Good Man in Africa (1994) [Dr. Alex Murray]: Killed in a traffic accident (off-screen) when his ambulance is hit by a military vehicle. His body is shown afterwards when Colin Friels arrives at the scene of the accident and attempts to talk to Sean before being told that he's dead. (Thanks to Brian)
The Avengers (1998) [Sir August de Wynter]: Struck by lightning from his weather-controlling device (levitating him into the air in the process), after being stabbed in a swordfight with Ralph Fiennes. (Thanks to Neil)
Finding Forrester (2000) [William Forrester]: Dies (off-screen) of cancer; we learn of his death afterwards when Matt Damon informs Rob Brown. (Thanks to Neil)
The League of Extraordinary Gentlemen (2003) [Allan Quatermain]: Stabbed in the back by Richard Roxburgh after Sean shoots Tom Goodman-Hill (who's holding Shane West hostage). He dies shortly afterwards, while talking to Shane. After he is buried in Kenya, a witch doctor is shown performing a ritual, suggesting that Sean is about to be brought back to life. (Thanks to Gary and ND)
TV Deaths:
[
]
ITV Play of the Week: The Crucible (1959) [John Proctor]: Presumably executed by hanging. (I haven't seen this version, so I don't know whether or not his death was actually depicted.)
Macbeth (1961; TV movie) [Macbeth]: Stabbed to death in a swordfight with Woodrow Parfrey; later beheaded.
Noteworthy Connections:
[
]
Gallery:
[
]
]
]