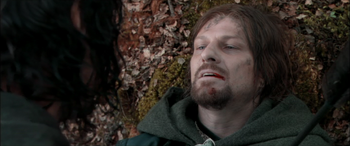 Sean Bean (1959 - )
Film Deaths
War Requiem (1989) [German Soldier]: Stabbed in the stomach with a bayonet by Nathaniel Parker after the opposing soldiers stumble across each other. There is a subsequent scene of Nathaniel meeting a bandaged Sean, but due to the film's symbolic nature and the absence of dialogue, it's ambiguous whether Sean is still alive and meeting Nathaniel in a military hospital, or whether they're both dead and meeting in the afterlife.
The Field (1990) [Tadgh McCabe]: Falls to his death from a cliff while running away from a stampeding herd of cows. (Thanks to Frederica)
Lorna Doone (1990) [Carver Doone]: Drowns in a bog. (Thanks to Frederica)
Patriot Games (1992) [Sean Miller]: Accidentally impaled through the back when he falls onto an anchor during a fight with Harrison Ford on the deck of a burning speedboat; his body is later seen when the burning boat crashes and explodes.
Goldeneye (1995) [Alec Trevelyan]: Mortally injured when he falls a great distance when Pierce Brosnan drops him from an antenna cradle onto a satellite dish, then is crushed to death when the antenna cradle collapses on him.
Essex Boys (2000) [Jason Locke]: Shot in the head with a shotgun by Tom Wilkinson. (Thanks to Katy and ND)
Don't Say a Word (2001) [Patrick Koster]: Buried alive after Michael Douglas dislodges the supports to a freshly-dug grave that Sean had fallen into, causing the grave to collapse in on itself.
The Lord of the Rings: The Fellowship of the Ring (2001) [Boromir]: Shot three times with arrows by Lawrence Makoare during a battle with the orcs in the woods; he dies shortly afterwards while talking to Viggo Mortensen. His body is later seen on a boat going over a waterfall. (Note: Sean reprised the role in a flashback to his 'death' in The Return of the King, he as well had a memory/flashback scene in the extended edition of The Two Towers.)
Henry VIII (2003) [Robert Aske]: Starved by Ray Winstone's followers. It just shows Sean tied up to a gate shirtless. (Thanks to PortsGuy)
Far North (2007) [Loki]: Presumably freezes to death (off-screen) when he runs naked out into the Arctic tundra in a blind panic after discovering Michelle Yeoh killed Michelle Krusiec and is now wearing her daughter's face as a mask.
Ca$h (2010) [Pyke Kubic / Reese Kubic]: Playing a dual role as twin brothers, "Pyke" is shot in the head during a struggle for a gun between Sean, Chris Hemsworth, and Victoria Profeta in Sean's car. "Reese" survives the movie.
Death Race 2 (2010) [Markus Kane]: Shot in the chest by a Triad kid. He then falls into his swimming pool.
Age of Heroes (2011) [Jones]: Presumably dies (off-screen) after being cornered by soldiers during a battle. We only hear gunshots, implying that he either died or much more.
Silent Hill: Revelation (2012) [Harry]: Stabbed and sliced in half by the Red Pyramid demon (Roberto Campanella). However, this turns out to be Adelaide Clemens dream and he survives in reality.
Wicked Blood (Bad Blood) (2014) [Frank Stinson]: Killed in an explosion (as he succumbs to being shot by James Purefoy in a gunfight) when Lew Temple's drug lab explodes, after Sean accidentally shoots it in a struggle with Lew.
Kingsglaive: Final Fantasy XV (2016; animated) [Regis Lucis Caelum]: Stabbed in the back by Adrian Bouchet at the end of a battle, while Lena Headey and Aaron Paul look on in shock.
TV Deaths
Clarissa (1991) [Robert Lovelace]: Stabbed to death by Sean Pertwee in a swordfight. (Thanks to Federica)
Screen One: Tell Me That You Love Me (1991) [Gabriel Lewis]: Commits suicide by stabbing himself or is stabbed by Judith Scott. (Thanks to Federica)
Scarlett (1994) [Lord Richard Fenton]: Stabbed with a knife. (Thanks to Federica)
Red Riding: 1974 (2008) [John Dawson]: Shot to death by Andrew Garfield, after Sean confesses to murdering three young girls. (Thanks to Brian)
The Frankenstein Chronicles: Lost and Found (2015) [Inspector John Marlott]: Executed by hanging, he's later resurrected by Ed Stoppard.
Video Game Deaths
The Elder Scrolls IV: Oblivion (2006) [Martin Septim]: Sacrifices himself to become the avatar of Akatosh in order to fight Mehrunes Dagon, and turns into a statue when the battle is over.
HITMAN 2 (2018) [Mark Faba]: Assassinated by David Bateson in different killing methods depending on the players choice.
Notable connections
Gallery
Community content is available under
CC-BY-SA
unless otherwise noted.