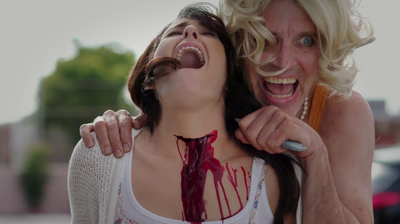 Scout Taylor-Compton (1989 - )
April Fool's Day (2008) [Torrance Caldwell]: In a film-within-the-film, Scout is stabbed multiple times in the chest and stomach by a masked intruder. (in reality she survives the movie).
Halloween II (2009) [Laurie Strode]: In the Director's Cut, she is shot repeatedly by police while she's standing over Malcolm McDowell's unconscious body and holding a knife after killing Tyler Mane, as Brad Dourif shouts at them to hold their fire. (After she falls to the ground, the movie fades to a scene of Scout sitting in a white room; although this might be interpreted as meaning that she survived the shooting and is now in an asylum, director Rob Zombie states on the DVD's audio commentary that she is indeed dead and that this is her dying vision.) (In the original theatrical release, she survives the movie.) (Thanks to Problematic)
Cynthia (2018) [Robin]: Throat slit with a box cutter by Bill Moseley. This is then shown to be a surreal nightmare that Scout is having. At the end of the movie, she commits suicide by shooting herself in the head (off-camera).
Flight 7500 (2014) [Jacinta]: Deprived of oxygen after the plane she's traveling on suffers uncontrolled decompression. She remains on the plane unaware of her death until she "dies" again when she allows her soul to be collected by a spirit and her body is later shown after Jerry Ferrara, Ryan Kwanten, Amy Smart, and Nicky Whelan realize the truth about what happened on the plane.
Eternal Code (2019) [Charlie]: Shot in the neck by Erika Hoveland while fighting over a gun.
Community content is available under
CC-BY-SA
unless otherwise noted.