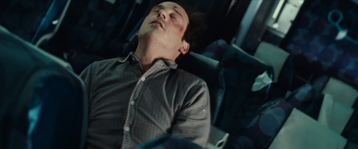 Scoot McNairy (1977 - )
Black Sea (2014) [Daniels]: Drowns when his submarine compartment floods, after he gets his belt stuck in the door while trying to lock the water out (with Grigoriy Dobrygin leaving him to die on discovering he abandonded three of the crew).
Frank (2014) [Don]: Commits suicide (off-screen) by hanging himself from a tree wearing one of Michael Fassbender's oversized heads. His body is seen when Domhnall Gleeson goes outside and finds it (initially confusing it for Michael until he walks in) and the head is removed, and again when it is set on fire on a funeral raft to cremate him.
Non-Stop (2014) [Tom Bowen]: Shot in the head by Liam Neeson (as he grabs a gun in mid-air) as the plane loses gravity during a steep descent.
The Rover (2014) [Henry]: Shot in the chest by Guy Pearce who then burns his body along with the others in the house.
Aftermath (2017) [Jake Bonaos]: Stabbed in the neck by Arnold Schwarzenegger, as revenge for being involved with the plane crash that killed Arnold's family. He dies from blood loss, as his wife (Maggie Grace) and son (Judah Nelson) look on in shock.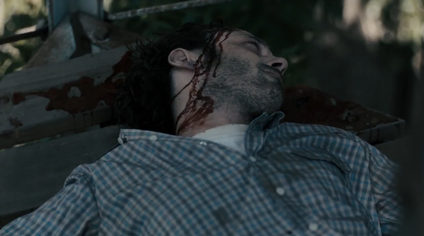 Community content is available under
CC-BY-SA
unless otherwise noted.