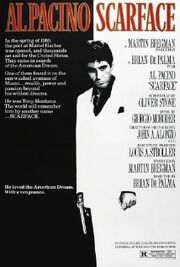 Scarface (1983)
Director: Brian De Palma
After getting a green card in exchange for assassinating a Cuban government official (Roberto Contreras), Tony Montana (Al Pacino) stakes a claim on the drug trade in Miami. Viciously murdering anyone who stands in his way, Tony eventually becomes the biggest drug lord in the state, controlling nearly all the cocaine that comes through Miami. But increased pressure from the police, wars with drug cartels and his own drug-fueled paranoia serve to fuel the flames of his eventual downfall.
Male Deaths
Edit
Female Deaths
Edit
Scarface was actually a nickname of Al Capone who was an Italian-American gangster.
Al Pacino reportedly stated that Tony Montana was one of his favorites of all the characters he's played.
To help stay in character, Al Pacino asked director of photography John A. Alonzo to speak to him only in Spanish.
Michelle Pfeiffer accidentally cut Al Pacino's face during production.
When director Brian De Palma submitted the film to the MPAA, they gave it an "X rating". He then made some cuts and resubmitted it a second time; again the film was given an "X rating" (one of the reasons apparently being that Octavio the clown was shot too many times). He yet again made some further cuts and submitted it a third time; yet again it was given an "X". De Palma refused to cut the film any further to qualify it for an R. He and producer Martin Bregman arranged a hearing with the MPAA. They brought in a panel of experts, including real narcotics officers, who stated that not only was the film an accurate portrayal of real life in the drug underworld, but ultimately it was an anti-drug film, and should be widely seen. This convinced the arbitrators that the third submitted cut of the film deserved an "R rating" by a vote of 18-2. However, De Palma surmised that if the third cut of the film was judged an "R" then the very first cut should have been an "R" as well. He asked the studio if he could release the first cut but was told that he couldn't. However since the Studio execs really didn't know the differences between the different cuts that had been submitted, De Palma released the first cut of the film to theaters anyway. It wasn't until the film had been released on videocassette months later that he confessed that he had released his first unedited and intended version of the film.
Community content is available under
CC-BY-SA
unless otherwise noted.