Saw IV (2007)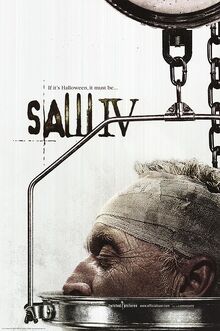 Director: Darren Lynn Bousman
Summary
During the autopsy of serial killer Jigsaw (Tobin Bell), a cassette tape is discovered in his stomach in which he warns that his gory games will continue. Sure enough, SWAT Lt. Daniel Rigg (Lyriq Bent) is forced to follow a blood-drenched trail of torture, dismemberment and death in order to find two missing colleagues. A pair of FBI profilers follow Riggs, suspecting he might be Jigsaw's accomplice, even as they unlock the puzzle of the killer's origins, seen in gruesome flashbacks.
Male Deaths
Female Deaths
Gallery
Posters
Community content is available under
CC-BY-SA
unless otherwise noted.