Sarah Power (1985 -)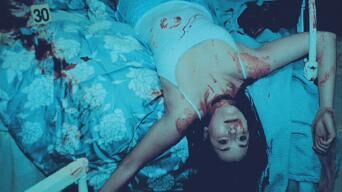 Repo! The Genetic Opera (2008) [Marni Wallace]: Poisoned after Paul Sorvino has one of his associates tamper with Sarah's medicine; Anthony Stewart Head then performs an emergency caesarian section to save her baby. Shown in brief flashback clips.
Saw V (2008) [Angelina]: Throat slit (off-screen) by Joris Jarsky in her bedroom, sometime before the story begins. Her body is shown in crime scene photos on the computer monitor when Scott Patterson researches the case and in flashback when her brother (Costas Mandylor) arrives at the crime scene.
Killjoys: Johnny Be Good (2016) [Pawter Simms]: Stabbed just below the heart by Mayko Nguyen.
Community content is available under
CC-BY-SA
unless otherwise noted.