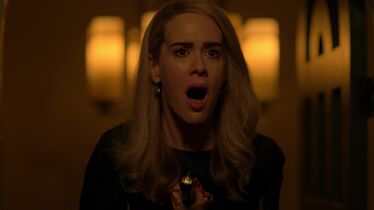 Sarah Paulson (1974 - )
Serenity (2005) [Dr. Caron]: Eaten alive by a cannibal (off-screen) while recording a holographic transmission prior to the events of the film; her death is revealed when Nathan Fillion and his crew view the footage of her final moments. We only hear her screams after the cannibal wrestles her to the ground.
Bird Box (2018) [Jessica]: Commits suicide by stepping in front of a truck as her sister (Sandra Bullock) watches in horror after she goes insane from seeing the creatures.
American Gothic: Pilot (1995) [Merlyn Temple]: Neck snapped by Gary Cole in her bedroom, after Sarah had been attacked and injured by her father (Sonny Shroyer), as Nick Searcy looks on in shock through the doorway. She appeared as a ghost in this and several subsequent episodes throughout the rest of the series.
American Horror Story: Freak Show: Pink Cupcakes (2014) [Bette and Dot Tattler]: In a dual role as cojoined twins, Bette is killed after eating a pink cupcake which had been injected with poison by Denis O'Hare, while Dot is suffocated by Denis when she refuses to eat a cupcake on Bette's deathbed. This all turns out to be a part of Denis's imagination as both twins turn down the cupcakes in reality.
American Horror Story: Roanoke: Chapter 5 (2016) [Audrey Tindall (as Shelby Miller - Reenactment)]: Hacked in the head with a meat cleaver by Kathy Bates as she prepares to enter the bathroom (However, this turns out to be a nightmare so Sarah is still alive in the present.)
Community content is available under
CC-BY-SA
unless otherwise noted.