Wiki Targeted (Entertainment)
Play Sound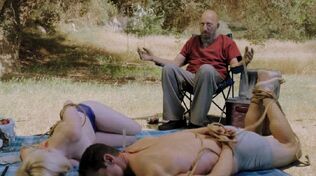 Sarah French (1982 - )
a.k.a. Scarlet Salem
Film Deaths
[
]
You're Next 3: Pajama Party Massacre (2007 short film) [Jennifer]: Presumably killed by

Joe Knetter

.
The City (2009) [Victim]:
Monsterland (2016) [The Victim]:
Death House (2017) [Icicle Killer's Victim]: Stabbed in the the back of her neck with an icicle along with Kevin Caliber by Sid Haig. This happens in an augmented reality simulation. (Nudity Alert: Topless)
Rootwood (2018) [Erin]: Killed off-camera, possibly by The Wooden Devil. Her body is found outside the trailer by

Tyler Gallant

.
Blind (2019) [Faye Dayne]: Presumably killed off-screen by the killer after he unmasked himself in front of her as she was lying on her bed. (Nudity Alert: Topless full frontal)
Automation (2019) [Linda]: Killed by

Jeff J. Knight

after he had bear-hugged her as she embraced him emotionally.
Art of the Dead (2019) [Heidi]: Stabbed behind her head by

Cynthia Aileen Strahan

after which she took some chunks of her brain out. (Nudity Alert: Topless)
Hanukkah (2019) [Cheryl]: Killed (off-screen) by

Joe Knetter

. Her body, carved with a Star of David on her stomach is found by her house mate outside their residence. (Nudity Alert: Topless)
Clown Fear (2020) [Britney]: Stabbed inside her mouth with a long knife by a masked man. (Nudity Alert: Topless full frontal right before death)
The Special (2020) [Lisa]: Stabbed in her forehead with a bolt cutter (taking out a chunk of her forehead) by her husband (

Davy Raphaely

) after he had unsuccessfully tried to kill her by choking.
TV Deaths
[
]
Pool Boy Nightmare (2020 TV Movie) [Rhonda]: Knocked in her forehead at a side of the swimming pool by

Tanner Zagarino

. He then placed her naked body inside her house in the bathtub in face down position.
Music Video Deaths
[
]
Twiztid: Boogieman (2015) [Cassandra]: Presumably killed by neck snapping off-screen as Tyler Mane killed Elissa Dowling in the same way.
Twiztid: FTS (2015) [Bar Zombie]: Presumably killed before the events of this movie began. Appeared as a zombie. She is killed again after a man had broken a glass bottle in the back of her head.
Gallery
[
]