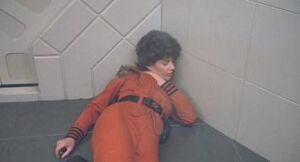 Sarah Douglas (1952 - )
Film Deaths
Edit
The Final Programme (The Last Days of Man on Earth) (1973) [Catherine Cornelius]: Accidentally shot in the chest with a needle-gun by her brother (Jon Finch) while he's trying to kill their other brother (Derrick O'Connor) and hits her instead.
Superman II (1980) [Ursa]: Knocked into a deep pit by Margot Kidder, after Christopher Reeve manages to strip Sarah, Terence Stamp, and Jack O'Halloran of their superhuman powers. (However in Superman II: The Richard Donner Cut, Christopher turns back time (the same way he did in the first film) to the time before Sarah, Jack and Terence were released from the 'Phantom Zone') (Thanks to Rick, Robert and Michael)
Solarbabies (Solar Warriors) (1986) [Shandray]: Electrocuted when she backs into a computer terminal, after the mysterious orb burns her hands. (Thanks to Rick)
The Return of Swamp Thing (1989) [Dr. Lana Zurrell]: Shot to death by Louis Jourdan. (Thanks to Rick and PortsGuy)
To The Ends Of Time (1991) [Karnissa]: Squashed by a huge cog during the destruction of a giant time-altering clock.
Mirror, Mirror 2: Raven Dance (1994) [Nicolette]: Sucked into an evil mirror at the beginning of the movie.
Voodoo (1995) [Prof. Conner]: Stabbed with a scalpel by a student she'd attempted to murder.
Strippers Vs Werewolves (2012) [Jeanette]: Electrocutes herself & chief werewolf in order to kill him but suprisingly lives long enough to ignite a bomb to destroy the nightclub & kill the rest of the werewolf pack.
Television Deaths
Edit
Dracula (1973; TV film) [Dracula's Wife]: Stabbed in the chest (off-screen) with a wooden stake (along with Barbara Lindley and Virginia Wetherell) by Nigel Davenport as she's lying in her coffin. (Only Virginia's staking is shown on-camera; the other two are off-screen.) (Thanks to PortsGuy)
V: The Final Battle (1984 miniseries) [Pamela]: Shot in the shoulder and stomach with a ray-gun by Jane Badler on board the Visitors' mothership. (Thanks to Matthew)
Sledge Hammer!: Play It Again, Sledge (1986) [Mrs. Carstairs]: Shot in her own house by a mystery shooter.
Superforce: The Crime Doctor (1990) [Dr. Verona]: Killed in an explosion when her car is blown up by a rocket launcher.
Tagget (aka Dragonfire) (1991; TV movie) [Mrs. Sands]: Thrown over a balcony by Daniel J. Travanti's character in a scene which culminated in unintentional hilarity when we see a dummy representing Ms. Douglas's body bouncing off a tree. (Thanks to Steven)
Babylon 5: Deathwalker (1994) [Jha'Dur a.k.a. Deathwalker]: Killed in an explosion when the Vorlons blow up her spaceship. (Sarah was wearing alien makeup for this role)
Attack of the Gryphon (Gryphon) (2007; TV film) [Queen Cassandra of Delphi]: Sacrifices herself by turning herself into mystical energy to destroy Amy Gillespie and Simone Levin during a battle of magic. (Thanks to Steven)
Notable Connections
Edit
Community content is available under
CC-BY-SA
unless otherwise noted.