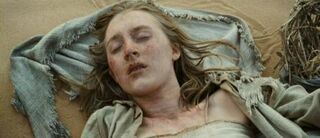 Saoirse Ronan (1994 - )
The Lovely Bones (2009) [Susie Salmon]: Killed (off-screen, exact method unspecified) by Stanley Tucci in his underground "clubhouse"; she appears as a spirit throughout the rest of the movie. A bag containing her body is shown when Stanley puts it in his safe.
Byzantium (2012) [Eleanor]: Playing a vampire, her transformation is shown in a flashback in a partially allegorical scene where Saoirse confronts and bites the neck of a "mortal" version of herself (having been raped and infected with a plague by Jonny Lee Miller).
Robot Chicken: Stone Cold Steve Cold Stone (2014) [Aurora/Merida/Jasmine]: Playing the voices of many characters, in the 'Disney Princess War' sketch "Aurora" is shot with an arrow by "Merida", "Princess Jasmine" is killed in an explosion caused by Ariel's (voiced by Rachel Bloom) nuclear war head and "Merida" is shot in the head by Tinkerbell. (Played for comic effect.)
Robot Chicken: I know what Bratz did last summer (2014; animated) [Sasha/Draculaura]: Sasha is shot in the head by Draculaura (also voiced by Ronan). (played for comic effect)
Community content is available under
CC-BY-SA
unless otherwise noted.