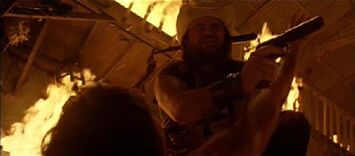 Santiago Segura (1965 - )
Director
Acción Mutante (1993) [Ezequiel]: Machine gunned by Antonio Resines.
El Dia de la Bestia (1995) [José Maria]: Falls to his death when one of the members of "Limpia Madrid" (with the appearance of the Devil) drops him several hundred feet from the top of a building.
Killer Barbys (1996) [Baltasar]: Run over with a steamroller by Charlie S. Chaplin.
Dance with the Devil (Perdita Durango) (1997) [Shorty Dee]: Stabbed through the head by Javier Bardem just as Santiago is about to shoot Javier.
Asesino en Serio (Serious Killer) (2002) [Padre Gorkisolo]: Accidentally falls down a staircase when Jesus Ochoa slaps him on the back good-naturedly. (Played for comic effect.)
Blade II (2002) [Rush]: Stabbed in the head with a sword by Wesley Snipes through the two-way mirror of a private booth in a strip club. (Thanks to ND)
Beyond Re-Animator (2003) [Speedball]: Dies of an overdose of Jeffrey Combs' re-animation formula; his body is later re-animated. (Thanks to ND)
Hellboy II: The Golden Army (2008) [Distinguished Buyer]: Devoured by a swarm of tooth fairies. (Thanks to ND)
The Last Circus (Balada triste de trompeta) (2010) [Javier's Father, the Funny Clown]: Trampled to death by Sancho Gracia's horse, as Santiago's son (Jorge Clementi) looks on in horror. There is also a later dream sequence when Santiago's now-grown son (Carlos Areces) has a nightmare in which Santiago's throat is slit by Antonio de la Torre.
Pacific Rim (2013) [Wizened Man]: Devoured along with his cohorts by the baby Kaiju whilst their inside it's parent.
Community content is available under
CC-BY-SA
unless otherwise noted.